Peter Cushing OBE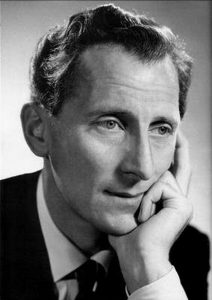 Peter Wilton Cushing was born in Kenley, Surrey, on 26 May 1913. After he left school he worked for his father in a surveyor's office, but his passion was for the stage. Following a period with the Worthing Repertory Company he travelled to Hollywood where he secured a part in The Man in the Iron Mask (1939).
He returned to England in 1942, and a year later married Helen Beck, whom he had met outside the stage door of London's Theatre Royal.
His big break came when Lawrence Olivier cast him as Osric in his 1948 film Hamlet.
Peter Cushing gained his first lead role in his 15th film – Hammer's The Curse of Frankenstein (1957). He signed his contract for the film on 26 October 1956 and went on to make the role his own, starring as Victor in all but one of Hammer's Frankenstein films.
Following the success of Curse, he then made the role of Professor Van Helsing his own in Hammer's successful Dracula productions. He went on to make 24 films with Hammer, and 17 for Hammer's rival companies, Amicus (15) and Tigon (2).
Despite his many appearances in the horror films of the 50's, 60's and 70's Peter is quoted as saying, "I have no deep personal interest in the horror genre, but I do enjoy making films, and I feel extremely lucky to have been so closely associated with the Hammer success story".
After being diagnosed with prostrate cancer in May 1982, doctors determined he had twelve to eighteen months to live. To their surprise, however, he recovered well enough to be released from the hospital, and although his health continued to gradually decline, he lived another twelve years without any operative treatment or chemotherapy.
In August 1994, Peter entered himself into Pilgrims Hospice in Canterbury, where he died on 11 August at 81 years old. Peter Cushing received 131 acting credits for film and television productions.
Peter Cushing's Hammer Appearances (24)