Jimmy Sangster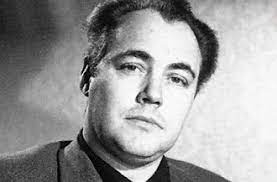 James Henry Kimmel Sangster was born on 2 December 1927 Briarley, Kinmel Bay, North Wales
After service with the RAF, he worked as a third assistant director on Ealing Studios productions, then joined Exclusive Studios (later Hammer Films) in 1949.
He worked as a production assistant at Hammer Films. His duties included assistant director, second unit director and production manager. For an upcoming project the head of Hammer suggested that Sangster try his hand at writing; if he liked Sangster's script, Hammer would buy it. This began Jimmy Sangster's career as a writer, the profession he is best known for. His early scripts were not only for Hammer, but some of Hammer's competitors as well.
He is quoted as saying "All of a sudden I'm a cult figure. But it's all due to about five movies: a couple of Frankensteins, a couple of Draculas and a mummy."
Link to Hammer Graveyard's Jimmy Sangster feature and interview
Between 1950 and 1968 he was married to Hammer hair stylist, Monica Hustler.
Jimmy Sangster died in London on 19 August 2011, he was 83.
Jimmy Sangster's Hammer Productions (67)