Visitor from the Grave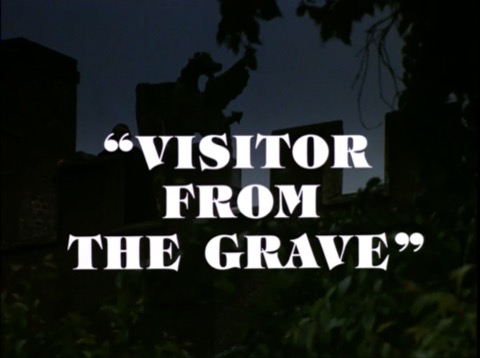 Jack Gill Presents "Hammer House of Horror" Copyright MCMLXXX
Chips Productions Limited. All Rights Reserved
The characters and incidents portrayed and the names used herin are fictitious and any similarity to the name, character or history of any person is entirely co-incidental.
A Jack Gill Presentation for Chips Productions Ltd.
A Cinema Arts International Production in association with Hammer Films for ITC Entertainment – An OCC company.
UK Transmission Date 22nd Nov 1980

Storyline
A psychologically fragile woman accidentally kills an intruder who is about to hurt her. Her husband buries the body in the woods, but she continues to see the man in various places; this leads her to seek help from a psychic. Worse is to follow as she becomes the victim of a macabre plot.

Crew
Story Editor
Designer
Director of Photography
Editor
Music Composed by
Musical Supervisor
Production Manager
Camera Operator
Continuity
Assistant Director
Assistant Art Director
Assistant Art Director
Special Effects
Casting Director
Costume Supervisor
Make-up
Hairdresser
Production Assistant
Sound Recordist
Dubbing Editors
Music Editor
Dubbing Mixer
Production Assistant
Gaffer
Lighting
Screenplay
Executive Producers
Produced by
Directed by
Anthony Read
Carolyn Scott
Frank Watts BSc
Chris Barnes GBFE
Marc Wilkinson
Philip Martell
Ron Jackson
Neil Binney
Lorely Farley
Ken Baker
Bob Bell
Richard Rooker
Ian Scoones
Eileen Garstka
Laura Nightingale
Eddie Knight
Daphne Volmer
Margaret Nicholas
John Bramall
Jack Night GBFE, Brian Tilling, Peter Best GBFE
Maurice Durham
Otto Snall
Mike Widd
Steve Birtles
Group Five
John Elder
Brian Lawrence, David Read
Roy Skeggs
Peter Sasdy

Cast

Penny
Harry
Richard/Gupta
Margaret
Charles
Kathryn Leigh-Scott
Simon McCorkindale
Gareth Thomas
Mia Nadasi
Stanley Lebor
Footnotes

Peter Sasdy also directed Hammer's early 1970's horrors, "Countess Dracula" (1971), "Hands of the Ripper" (1971) and "Taste the Blood of Dracula" (1970)
Details were complied viewing the actual film.
Source of viewing copy – The Hammer Graveyard Collection