The Thirteenth Reunion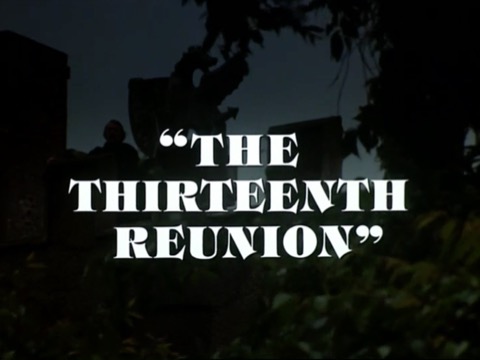 Jack Gill Presents "Hammer House of Horror" Copyright MCMLXXX
Chips Productions Limited. All Rights Reserved
The characters and incidents portrayed and the names used herin are fictitious and any similarity to the name, character or history of any person is entirely co-incidental.
A Jack Gill Presentation for Chips Productions Ltd.
A Cinema Arts International Production in association with Hammer Films for ITC Entertainment – An OCC company.
UK Transmission Date: 20th September 1980

Storyline
Ruth, the reporter for the women's section of a magazine, is assigned by her editor to participate in the ten-weeks course of a new weight-loss organization called "Think Thin". According to a letter from a reader, the course is very masochistic and depressing, destroying the self-esteem of the patient. Ruth makes a friend in the course, who dies in a car crash. During the funeral, an employee of the funeral house discloses weird events that are happening in his job. In her investigation, Ruth finds dark and macabre secrets.

Crew
Story Editor
Designer
Director of Photography
Editor
Music Composed by
Musical Supervisor
Production Manager
Camera Operator
Assistant Director
Continuity
Assistant Art Director
Assistant Art Director
Special Effects
Casting Director
Costume Supervisor
Make-up
Hairdresser
Production Assistant
Sound Recordist
Dubbing Editors
Music Editor
Dubbing Mixer
Production Assistant
Gaffer
Lighting
Screenplay
Executive Producers
Produced by
Directed by
Anthony Read
Carolyn Scott
Frank Watts BSc
Peter Weatherley GBFE
John McCabe
Philip Martell
Ron Jackson
Neil Binney
Ken Baker
Lorely Farley
Bob Bell
Richard Rooker
Ian Scoones
Eileen Garstka
Laura Nightingale
Eddie Knight
Daphne Volmer
Margaret Nicholas
John Bramall
Jack Night GBFE, Brian Tilling
Maurice Durham
Ken Scrivener
Mike Widd
Steve Birtles
Group Five
Jeremy Burnham
Brian Lawrence, David Read
Roy Skeggs
Peter Sasdy

Cast

Ruth
Gwen
Sir Humphrey Chesterton
Basil
Cedric
Willis
Ben
Andrew
Dr Bradley
Joan
Joyce
The Butler
Charlie
Rossi
Rothwell
Julia Foster
Dinah Sheridan
Richard Pearson
Norman Bird
George Onnes
James Cosmos
Warren Clarke
Gerrard Kelly
Michael Latimer
Barbara Keogh
Paula Jacobs
Roger Ostime
Peter Dean
Louis Mansi
Kevin Stoney
Footnotes

Louis Mansi played Herr Engelbert von Smallhausen, in the BBC TV Series 'Allo, 'Allo.
Details were complied viewing the actual film.
Source of viewing copy – The Hammer Graveyard Collection