The House That Bled to Death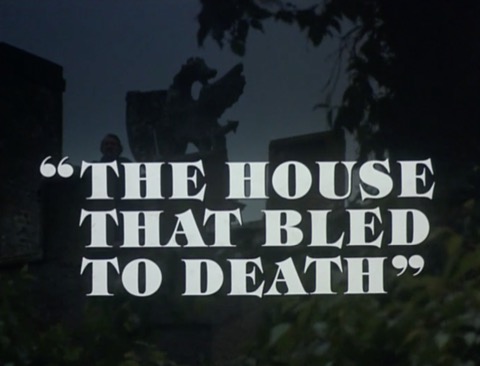 Jack Gill Presents "Hammer House of Horror" Copyright MCMLXXX
Chips Productions Limited. All Rights Reserved
The characters and incidents portrayed and the names used herin are fictitious and any similarity to the name, character or history of any person is entirely co-incidental.
A Jack Gill Presentation for Chips Productions Ltd.
A Cinema Arts International Production in association with Hammer Films for ITC Entertainment – An OCC company.
Uk Transmission Date 11 Oct 1980
Storyline
After buying it for a good price, a couple and their young daughter move into a house that was the scene of a macabre murder. A series of terrifying events eventually force them to flee for their lives, but all is not as it seems.

Crew
Story Editor
Designer
Director of Photography
Editor
Music Composed by
Musical Supervisor
Production Manager
Camera Operator
Continuity
Assistant Art Director
Assistant Art Director
Special Effects
Casting Director
Costume Supervisor
Make-up
Hairdresser
Production Assistant
Sound Recordist
Dubbing Editors
Music Editor
Dubbing Mixer
Production Assistant
Gaffer
Lighting
Screenplay
Executive Producers
Produced by
Directed by
Anthony Read
Carolyn Scott
Norman Warwick BSc
Bob Dearberg
James Barnard
Philip Martell
Ron Jackson
David Monro
Marjorie Lovell
Bob Bell
Richard Rooker
Ian Scoones
Eileen Garstka
Laura Nightingale
Alan Brownie
Betty Sherriff
Margaret Nicholas
Stuart Edwards
Jack Night GBFE, Brian Tilling
Maurice Durham
Otto Snall
Mike Widd
Steve Birtles
Group Five
David Lloyd
Brian Lawrence, David Read
Roy Skeggs
Tom Clegg

Cast

William
Emma
George
Jean
A.J.Powers
Sophia
Sophia (older)
Old Man
Old Woman
1st Mother
2nd Mother
Journalist
Journalist
Sister
Nicholas Ball
Rachel Davies
Brian Croucher
Pat Maynard
Milton Johns
Emma Ridley
Joanne White
George Tovey
Una Brandon-Jones
Jo Warne
Sarah Keller
Max Mason
Anna Perry
Marilyn Finlay
Footnotes

In 2003 Channel 4 placed Hammer House of Horrorat No. 50 in its "100 Scariest Moments" show. The clip shown was the children's party scene in "The House That Bled to Death".
Details were complied viewing the actual film.
Source of viewing copy – The Hammer Graveyard Collection