Nosher Powell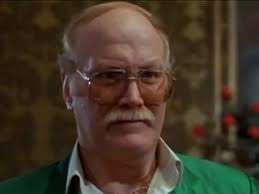 Frederick Bernard Powell was born on 15th August 1928.
His mother gave him the nickname "Nosher" because of his enormous appetite when he was an infant.
After their home was bombed during the war the family was evacuated to Swanage in Dorset where Nosher attended the Swanage Grammar School. On his return to London he took up boxing and became an occasional sparring partner for Joe Louis and later Sugar Ray Robinson, and Muhammad Ali. He continued to box during his national service with the Royal Army Medical Corps and on discharge turned professional, retiring in 1960 having had 78 fights – 51 as a professional and only 9 losses but was never knocked out.
He first started in films in 1944 when he was a stuntman in Laurence Olivier's Henry V(1944). He continued with stunt work in between his boxing and had small roles in David Lean's Oliver Twist (1948), and Cosh Boy (1953). In 1963 he began working as Sean Connery's stunt double in From Russia with Love (1963) which continued for many years. Away from stunt work he and his wife ran a pub near the Wimbledon greyhound stadium.
In his memoirs, he claimed to have turned down an offer to be the getaway driver on the Great Train Robbery.
He married Pauline Wellman in 1952 and they had 2 children.
He died at age 84 on 20th April 2013 in London.
Nosher Powell's Hammer Appearances (8)