James Needs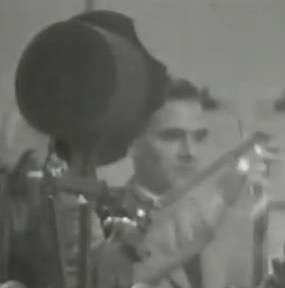 James Needs was born on 17 October 1919, in Holborn, London.
Hammer's most credited crew member, a veteran of 110 productions, James gained his first editing job at Islington Studio in 1935, then to Shepherd's Bush as assembly cutter. He bacame the editor there by 1948, before joining Hammer Studios the following year. From 1958 to 1969, he was supervising editor at Hammer.
James was married twice firstly to Wynifred Rose Makin, from 1940 until her death in 1978, and then to Mona Reilly from 1984 until hia death in 2003
James Needs died in Ynys Mon, Anglesey, Wales, UK in 2003, he was 83.
James Needs' Hammer Productions (111)
| | | |
| --- | --- | --- |
| Year Released | Production | Role |
| 1950 | Room to Let | Editor |
| 1950 | What the Butler Saw | Editor |
| 1951 | A Case for PC 49 | Editor |
| 1951 | The Black Widow | Editor |
| 1951 | To Have and to Hold | Editor |
| 1952 | Lady in the Fog | Editor |
| 1952 | Whispering Smith Hits London | Editor |
| 1952 | Wings of Danger | Editor |
| 1953 | Mantrap | Editor |
| 1953 | The Flanagan Boy | Editor |
| 1953 | The Saint's Return | Editor |
| 1954 | 36 Hours | Editor |
| 1954 | Five Days | Editor |
| 1954 | The House Across the Lake | Editor |
| 1954 | The Men of Sherwood Forest | Editor |
| 1955 | The Glass Cage | Editor |
| 1955 | The Quatermass Xperiment | Editor |
| 1955 | Third Party Risk | Editor |
| 1956 | Dick Turpin, Highwayman | Editor |
| 1956 | Women Without Men | Editor |
| 1956 | X - The Unknown | Editor |
| 1957 | Danger List | Supervising Editor |
| 1957 | Quatermass 2 | Editor |
| 1957 | The Curse of Frankenstein | Editor |
| 1958 | Clean Sweep | Supervising Editor |
| 1958 | Dracula | Supervising Editor |
| 1958 | The Camp on Blood Island | Supervising Editor |
| 1958 | The Revenge of Frankenstein | Supervising Editor |
| 1958 | The Snorkel | Editor |
| 1959 | I Only Arsked! | Supervising Editor |
| 1959 | Ten Seconds to Hell | Supervising Editor |
| 1959 | The Hound of the Baskervilles | Supervising Editor |
| 1959 | The Man Who Could Cheat Death | Supervising Editor |
| 1959 | The Mummy | Supervising Editor |
| 1959 | The Ugly Duckling | Supervising Editor |
| 1959 | Yesterday's Enemy | Supervising Editor |
| 1960 | Hell is a City | Supervising Editor |
| 1960 | Never Take Sweets from a Stranger | Supervising Editor |
| 1960 | Passport to China | Supervising Editor |
| 1960 | Sword of Sherwood Forest | Supervising Editor |
| 1960 | The Brides of Dracula | Supervising Editor |
| 1960 | The Stranglers of Bombay | Supervising Editor |
| 1960 | The Two Faces of Dr Jekyll | Supervising Editor |
| 1961 | A Weekend with Lulu | Supervising Editor |
| 1961 | Taste of Fear | Supervising Editor |
| 1961 | The Curse of the Werewolf | Supervising Editor |
| 1961 | The Terror of the Tongs | Supervising Editor |
| 1961 | Watch it Sailor | Supervising Editor |
| 1962 | Captain Clegg | Supervising Editor |
| 1962 | The Phantom of the Opera | Supervising Editor |
| 1962 | The Pirates of Blood River | Supervising Editor |
| 1963 | Cash on Demand | Supervising Editor |
| 1963 | The Damned | Supervising Editor (Uncredited) |
| 1963 | Maniac | Supervising Editor |
| 1963 | The Scarlet Blade | Supervising Editor |
| 1964 | Nightmare | Supervising Editor |
| 1964 | Paranoiac | Supervising Editor |
| 1964 | The Curse of the Mummy's Tomb | Supervising Editor |
| 1964 | The Devil-Ship Pirates | Supervising Editor |
| 1964 | The Evil of Frankenstein | Supervising Editor |
| 1964 | The Gorgon | Supervising Editor |
| 1964 | The Kiss of the Vampire | Supervising Editor |
| 1965 | Fanatic | Supervising Editor |
| 1965 | Hysteria | Supervising Editor |
| 1965 | Secret of Blood Island | Supervising Editor |
| 1965 | She | Supervising Editor |
| 1965 | The Brigand of Kandahar | Supervising Editor |
| 1965 | The Nanny | Supervising Editor |
| 1966 | Dracula, Prince of Darkness | Supervising Editor |
| 1966 | One Million Years BC | Supervising Editor |
| 1966 | Rasputin the Mad Monk | Supervising Editor |
| 1966 | The Old Dark House | Supervising Editor |
| 1966 | The Plague of the Zombies | Supervising Editor |
| 1966 | The Reptile | Supervising Editor |
| 1966 | The Witches | Supervising Editor |
| 1967 | A Challenge for Robin Hood | Supervising Editor |
| 1967 | Frankenstein Created Woman | Supervising Editor |
| 1967 | Quatermass and the Pit | Supervising Editor |
| 1967 | Slave Girls | Supervising Editor |
| 1967 | The Mummy's Shroud | Supervising Editor |
| 1967 | The Viking Queen | Supervising Editor |
| 1968 | Dracula Has Risen from the Grave | Supervising Editor |
| 1968 | The Anniversary | Supervising Editor |
| 1968 | The Devil Rides Out | Supervising Editor |
| 1968 | The Lost Continent | Supervising Editor |
| 1968 | The Vengeance of She | Supervising Editor |
| 1969 | Do Me a Favor and Kill Me | Supervising Editor |
| 1969 | Eve (Journey to the Unknown) | Supervising Editor |
| 1969 | Girl of My Dreams (Journey to the Unknown) | Supervising Editor |
| 1969 | Jane Browns Body (Journey to the Unknown) | Supervising Editor |
| 1969 | Matakitas is Coming (Journey to the Unknown) | Supervising Editor |
| 1969 | One on an Island (Journey to the Unknown) | Supervising Editor |
| 1969 | Poor Butterfly (Journey to the Unknown) | Supervising Editor |
| 1969 | Somewhere in a Crowd (Journey to the Unknown) | Supervising Editor |
| 1969 | Stranger in the Family (Journey to the Unknown) | Supervising Editor |
| 1969 | The Beckoning Fair One (Journey to the Unknown) | Supervising Editor |
| 1969 | The Indian Spirit Guide (Journey to the Unknown) | Supervising Editor |
| 1969 | The Killing Bottle (Journey to the Unknown) | Supervising Editor |
| 1969 | The Last Visitor (Journey to the Unknown) | Supervising Editor |
| 1969 | The Madison Equation (Journey to the Unknown) | Supervising Editor |
| 1969 | The New People (Journey to the Unknown) | Supervising Editor |
| 1970 | Miss Belle (Journey to the Unknown) | Supervising Editor |
| 1970 | Paper Dolls (Journey to the Unknown) | Supervising Editor |
| 1970 | Scars of Dracula | Editor |
| 1970 | The Vampire Lovers | Editor |
| 1971 | Dr Jekyll & Sister Hyde | Editor |
| 1972 | Dracula AD 1972 | Editor |
| 1973 | Holiday on the Buses | Film Editor |
| 1973 | Love Thy Neighbour | Editor |
| 1974 | Captain Kronos - Vampire Hunter | Editor |
| 1974 | Frankenstein and the Monster from Hell | Editor |
WordPress Tables Plugin