The Quiet Ones – 2014

Exclusive Media Presents, In association with Travelling Picture Show Company, A Hammer Films Production, In association with Midfield Films.

Running time 98 mins
Storyline
In 1974, Oxford professor Joseph Coupland invites introspective lad Brian McNeil to film his experimental treatment of subject Jane Harper, aided by student assistants Krissi Dalton and Harry Abrams. Jane, a young woman with no memory of the past and repeatedly abandoned by foster families, believes herself possessed by a doll named Evey that gives her telekinetic power. Keeping her awake in an isolated house, Prof. Coupland intends that she puts her evil energy into an actual doll, thereafter destroying it to heal Jane. Amidst strange things happening in the house, Brian feels sorry for Jane and, researching her tattoo, learns an evil secret about Jane's past, and of Prof. Coupland's motivation.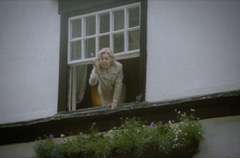 Selected Crew
Click here for full Cast and Crew listing on IMDB
Cast
Production
Footnotes
Lionsgate Films acquired the rights to distribute the film in the United Kingdom and United States. It released the film on 11 April 2014 in the UK and 25 April in the US. It was released on DVD on 19 August 2014.

The Budget for the film was estimated at $200,000. During opening weekend it grossed almost $4,000,000 and cumulative worldwide total was $17,834,867 at 5th June 2014.
Details were complied viewing the actual film.
Source of viewing copy – The Hammer Graveyard Collection