Up the Creek – 1958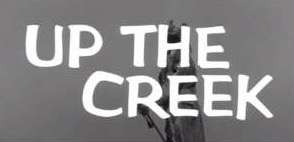 Exclusive Films Presents A Byron Film Production
RCA Sound Recording
Made at the New Elstree Studios
Photographed in Hammerscope
Black & White 80 mins
Storyline
During the Cold War, an idiotic R.N. lieutenant, who cannot be fired due to his connections, is transferred from the Admiralty to the far away Mothball Fleet to a rusty destroyer whose crew is running an illegal money-making scheme.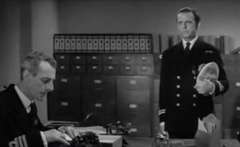 Crew
Cast
Production
Footnotes
Although filmed in Hammerscope and released by Exclusive, this film was purely a Byron Film production and not a co-production with Hammer, as is the case with the sequel "Further up the Creek", also 1958.

The warship seen in the film was the 'Berkeley Castle', an ex Castle Class Corvette of the Royal Navy.
This was popular comedian and "Goon" Peter Sellers first starring role.
David Tomlinson went on to appear in Disney classice "Mary Poppins" (1964), "The Love Bug" (1968) and "Bedknobs and Broomsticks" (1971).His final acting appearance was in The Fiendish Plot of Dr. Fu Manchu (1980), which was also the final film of Peter Sellers.
Details were complied viewing the actual film.
Source of viewing copy – The Hammer Graveyard Collection