I Only Arsked – 1958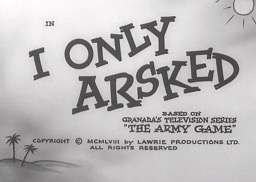 Columbia Corporation Pictures present
A Hammer Film Production
Based on Granada's Television Series "The Army Game"
Copyright MCMLVIII by Lawrie Productions Ltd. All rights reserved.
All characters in this film are fictitious. Any similarity to any persons living or dead is purely coincidental.
Approved MPAA Certificate No. 19140
RCA Sound recording
Produced at Bray Studios
Black & White 79 Mins
Storyline
A group of misfit soldiers are desperately trying to fiddle themselves some leave. Instead they wrangle a posting to the British Middle-East protectorate of Darawa. Their frustrations and disappointment at landing one of the harshest territories is compensated when they discover a secret passage to the King's harem.
Crew
Cast
Production
Footnotes
This was the first film to be made based on a British sitcom, namely The Army Game (ITV).
Montgomery Tulles also directed Hammer's "36 Hours" (1954) and "Five Days" (1954).

Francis Matthews later appeared in "Revenge of Frankenstein" (1958) and "Dracula, Prince of Darkness" (1966). He also provided the voice for Captain Scarlet in Gerry Andersons TV series "Captain Scarlet and the Mysterons" (1967).
Twins Pamela and Pauline Chamberlain appear uncredited here.
Details were complied viewing the actual film.
Source of viewing copy – The Hammer Graveyard Collection