The Curse of Frankenstein – 1957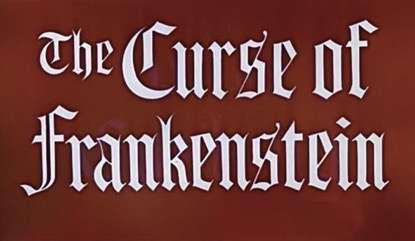 A Hammer production released by Warner Brothers
Copyright MCMLVII
Clarion Film Production.
MPAA Approved Certificate No. 18491
RCA Sound Recording
Produced at Bray Studios
Eastmancolour by Humphries Laboratories
81 Mins
Storyline
The film introduces itself with the on-screen information:- "More than a hundred years ago, in a mountain village in Switzerland, lived a man whose strange experiments with the dead have since become legend. The legend is still told with horror the world over…..It is the legend of…..The Curse of Frankenstein."

Watch the original trailer on YouTube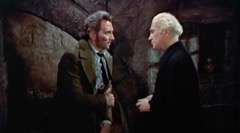 Crew
Cast
Production
Footnotes
Little did they know it, but with the arrival of actors Peter Cushing and Christopher Lee, Production Designer and miracle-worker Bernard Robinson and Photographer Jack Asher, Hammer now had more or less in place the team which would transform their fortunes virtually overnight.

So much has been said and written about "The Curse of Frankenstein" that it seems superfluous to say more. Suffice it to say that it was a seminal horror movie, showing dismembered body parts and large quantities of blood and gore in all their full-colour glory, and it (and its successors) have influenced the making of films of the genre ever since.

Hazel Court was already a dab hand at horror, having been scared witless by the rather unfriendly "Devil Girl from Mars" (1954). She worked again for Hammer in "The Man Who Could Cheat Death" (1959) and then starred in "Doctor Blood's Coffin" (1960), before appearing for Roger Corman in his adaptations of Edgar Allan Poe's '"The Premature Burial" (1961); "The Raven" (1963) and "The Masque of the Red Death" (1964).
With Hazel Court playing Elizabeth, her own daughter, Sally Walsh, was cast as Young Elizabeth. At the time Hazel was married to actor Dermot Walsh (who later played Ken in the Journey to the Unknown episode "Matakitas is Coming")

Melvyn Hayes, who plays the young Baron here, gained further fame, or perhaps notoriety, as Gloria in the BBC TV sitcom "It Ain't Half Hot, Mum".
Details were complied viewing the actual film.
Source of viewing copy – The Hammer Graveyard Collection