The Saint's Return – 1953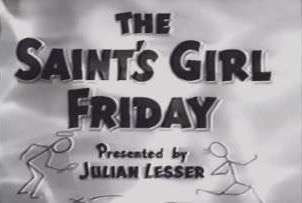 All characters in this photoplay are fictitious and any resemblance to any real person, living or dead, is entirely coincidental

Copyright MCMLXX by RKO Radio Pictures Inc.
All rights reserved
Black & White 60 minutes
Storyline
A private detective goes after the people who murdered his girlfriend.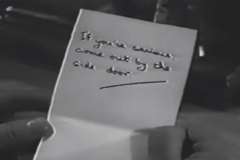 Crew
Cast
Production
Footnotes
This was the first Saint film to be released in ten years, following RKO's The Saint series 1938-1943, and Hammer Films had hopes to revive the series, but this did not occur.

It was not until 1962 and the TV series The Saint, starring Roger Moore, that the character achieved lasting success beyond the literary world. Louis Hayward, who played Simon Templar in the very first Saint film "The Saint in New York" (1938), returned to the role for one last time here.

Naomi Chance also appeared in Hammer's "Wings of Danger", "The Gambler and the Lady" both 1952, and "Blood Orange" (1953).

William Russell (credited here under his real name Russell Enoch) played Ian Chesterton, one of the original travellers in the Tardis in BBC TV's "Doctor Who" (1963).

Actor Sam Kydd was well known for his many varied roles on British television in the 1960's and 1970's.

Diana Dors, Britains first home grown sex symbol, played Ruby Bruce in Hammer's "The Last Page" (1952), Mrs Ardroy in the Hammer House of Horror episode "The Children of the Moon" (1980). She also appeared with Christopher Lee and Peter Cushing in Charlemagne Productions "Nothing But the Night" (1973).
Details were complied viewing the actual film.
Source of viewing copy – The Hammer Graveyard Collection