Spaceways – 1953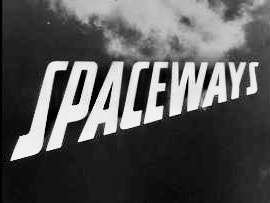 A Hammer production released by Exclusive Films (UK) and Lippert Films (USA) 
Copyright 1952 by Exclusive Films Ltd. 

All characters in this photoplay are fictitious and bear no resemblance to any real person, living or dead 

Freely adapted from the Radio Play by Charles Eric Maine
RCA Sound System 
New Symphony Orchestra
Produced at Exclusive Studios, Bray
Black & White 76 minutes
Storyline
It is an open secret that space scientist Stephen Mitchell and his wife, Vanessa, do not get along. So, when she and her lover, Philip Crenshaw, disappear, the suspicion is that Mitchell has killed them both and disposed of their bodies on board a rocket which has just been launched and which is destined to remain in orbit for decades to come. Mitchell decides that the only way to prove his innocence is to take up a second rocket and bring the first one back to Earth.

Watch the official trailer on YouTube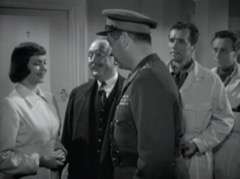 Crew
The screenplay was freely adapted from the Radio Play by Charles Eric Maine
Cast
Production
Footnotes
This early foray by Hammer into science-fiction is a low budget, and very slow-moving, foretaste of much better things to come.

Alan Wheatley, who plays the investigator, Smith, in this film, became a familiar face with audiences of the 1950s when he took the part of the Sheriff of Nottingham in ITC's long-running series "The Adventures of Robin Hood", starring Richard Greene in the title role. Terence Fisher was one of the directors used on the series.

Some of the scenes of the spaceship taking off were special effects shots taken from the Lippert film, Rocketship X-M (1950).
Details were complied viewing the actual film.
Source of viewing copy – The Hammer Graveyard Collection