Mantrap – 1953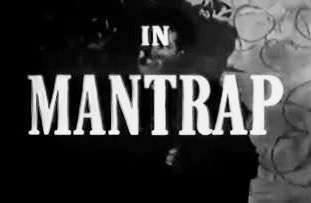 A Hammer production released by Exclusive Films (UK) and United Artists (USA) 
From the Original Story "Queen in Danger" by Elleston Trevor 
Copyright 1952 by Exclusive Films Ltd. 

All characters in this photoplay are fictitious and bear no resemblance to any real person, living or dead 

RCA Sound System 
Philharmonia Orchestra
Produced at Exclusive Studios, Bray
Black & White 79 minutes
Storyline
Mervyn Speight has escaped from prison, where he has been for the murder of a young woman two years earlier. He insists that he is an innocent man who was framed and lawyer Hugo Bishop, believing him, sets out to prove his story…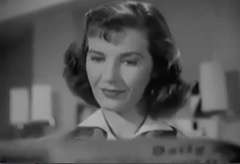 Crew
Cast
Production
Footnotes
Like Hammer, actor Kieron Moore later tried his hand at horror, starring in "Doctor Blood's Coffin" (1960) and "The Day of the Triffids" (1962).

Kay Kendall, who is also in Hammer's "Wings of Danger" (1952), became a popular film actress until her premature death in 1959, at the age of just 33.

Len Harris, mentioned here for the first time, became Hammer's regular Camera Operator for the next ten years.

Conrad Phillips, who plays Barker in this film, became William Tell in the ITC TV series of the early 1960s. He also appears in the horror film "Circus of Horrors" (1960).

This was Barbara Shelly's first film for Hammer.
Details were complied viewing the actual film.
Source of viewing copy – The Hammer Graveyard Collection