Four Sided Triangle – 1953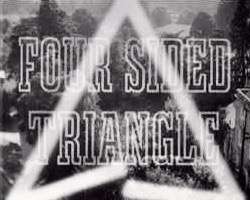 Exclusive Films presentation
Copyright 1952 by Exclusive Films Ltd. 

All characters in this photoplay are fictitious and bear no resemblance to any real person, living or dead 

RCA Sound System
Royal Philarmonic Orchestra
Produced at Exclusive Studios, Bray
Black & White 81 minutes
Storyline
Bill and Robin, helped by their childhood friend, Lena, develop a "reproducer" which can exactly duplicate any object. Bill, crushed when Lena marries Robin, convinces her to allow him to duplicate her, so that he may have a copy of her for himself. The experiment, at first deemed a success, seems to have worked only too well as the duplicate, Helen, is such an exact copy that she also loves Robin, not Bill. Bill hopes to rectify the situation with another radical experiment.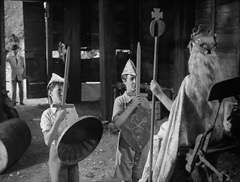 Crew
Cast
Production
Footnotes
The film dealt with the moral and scientific themes (not to mention "mad lab" scenes) that were soon to put Hammer Films on the map with the same director's "The Curse of Frankenstein" (1957).

Four Sided Triangle has most in common with Fisher's "Frankenstein Created Woman" (1967).

James Hayter (Dr. Harvey) and Stephen Murray (Bill) died only four days apart: on March 27, 1983 and March 31, 1983 respectively.
Details were complied viewing the actual film.
Source of viewing copy – The Hammer Graveyard Collection