The Lady Craved Excitement – 1950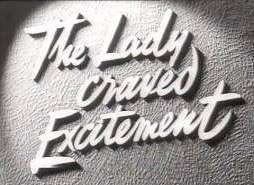 A Hammer production released by Exclusive Films
Panacoustic Recording

Cabaret sequence filmed at the Hotel de Paris, Bray
Based on the popular B.B.C. serial by Edward J. Mason

"The Lady Craves Excitement" and "Ladies of the Gaiety" by James Dyrenforth and George Melachrin

Black & White 69 minutes
Storyline
A madcap comedy, in which a couple of bungling cabaret artists stumble upon a plan to smuggle valuable works of art out of the country. To make matters worse, one of the gang is the mad descendant of the executioner of Anne Boleyn and is determined to re-enact the event, using Pat as head model for the part!

Watch a clip from the film on YouTube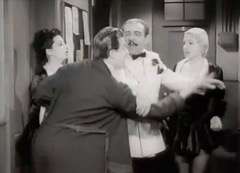 Crew
Cast
Production
Footnotes
Actor John Longden appeared in early Hitchcock films, such as "Blackmail" (1929) and "The Skin Game" (1931). He also turns up in Hammer's "Quatermass 2" (1957) alongside "Carry On" regular Sidney James, who has his first role with Hammer here.

Scottish actor Andrew Keir found more substantial parts with Hammer in "The Pirates of Blood River" (1962), "Dracula – Prince of Darkness" (1966), "Quatermass and the Pit" (1967) and "Blood from the Mummy's Tomb" (1971).

This is the first Hammer film to feature the famous exterior of Oakley Court, the building next door to Bray Studios. Michael Medwin's character even refers to it by its real name in the film.
Details were complied viewing the actual film.
Source of viewing copy – The Hammer Graveyard Collection