Jack of Diamonds – 1949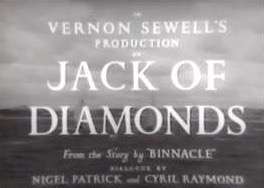 Exclusive Films Presents. Vernon Swewll Production
From the story by "Binnacle"
Dialogue by Nigel Patrick and Cyril Hammond
Diving apparatus by courtesy of Messrs. Siebe Gorman & Co. Ltd.
Westrex Sound
Black & White 65 minutes
Storyline
Down on their luck, a couple rent out their ship to a mysterious man looking for treasure he hid during the war. Complications ensue when it turns out he's not the only one looking for it.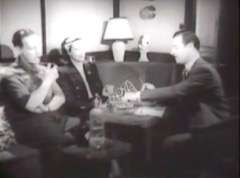 Crew
Cast
Production
Footnotes
This film saw Edwin Richfields film debut – he went on to appear in a further nine Hammer productions his last being "Quatermass and the Pit" (1967).

Assistant Producer Walter Tennyson is credited under the name Walter D'Eyncourt.
Details were complied viewing the actual film.
Source of viewing copy – The Hammer Graveyard Collection