Moon Zero Two – 1969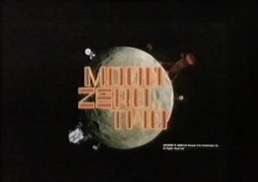 A Hammer Film production released through Warner-Pathe Distributors Limited (UK) and Warner-Seven Arts (USA) Copyright MCMLXIX Hammer Film Productions Limited – All rights reserved 
MPAA Approved Certificate 

The characters and incidents portrayed and the names used herein are fictitious and any similarity to the name, character, or history of any person is entirely accidental and unintentional. 

RCA Sound System 
Made at The Elstree Studios of Associated British Productions Ltd, England
Technicolor 100 mins 
Storyline
The year is 2021 and the moon is being colonised, attracting a diverse collection of strange characters, including the villainous J.J. Hubbard and satellite salvage operator Bill Kemp. When Hubbard hears of an asteroid made of pure sapphire which will shortly be at its closest point to the moon, he hires Kemp to 'capture' it and bring it down on the dark side…..

Watch the trailer on YouTube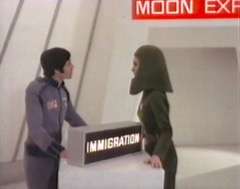 Crew
End Credit:- "With the permission of John Waddington Limited, the game Moonopoly is based upon the property trading game marketed by them under their registered trade name, "Monopoly"
Cast
Production
Footnotes
Billed as the first 'space western' and following hot on the heels of Stanley Kubrick's "2001:A Space Odyssey" (1968), this film was an instant box-office flop. It also contains what must be a strong contender for the worst title song of all time.

James Olson also starred in Hammer's "Crescendo" (1969).

Character actor Warren Mitchell has his biggest role for Hammer here, having appeared in "Hell is a City" (1959) and "The Curse of the Werewolf" (1961). His best-loved work is of course as loud-mouthed bigot Alf Garnett in Johnny Speight's BBC TV comedy series "Till Death Us Do Part" and "In Sickness and Health".

Catherina Von Schell (or, if you prefer, Catherine Schell) also appeared in the later Gerry Anderson series "Space 1999", which bears a remarkable resemblance to this production. Her other films include the James Bond movie "On Her Majesty's Secret Service" (1969) and "The Return of the Pink Panther".

Robert Tayman, who has a small part in this film, also appeared in Hammer's "Vampire Circus" (1971), playing the vampire Count Mitterhaus.
Details were complied viewing the actual film.
Source of viewing copy – The Hammer Graveyard Collection