The Vengeance of She – 1968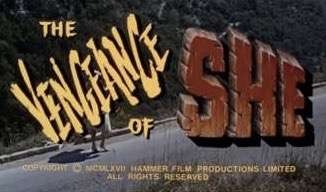 A Seven Arts-Hammer Film production presented by Associated British Pathe Limited and released through Warner-Pathe Distributors Limited (UK) and Twentieth Century-Fox (USA)
Copyright MCMLXVII Hammer Film Productions Limited – All rights reserved
MPAA Approved Certificate No. 21664

The characters and incidents portrayed and the names used herein are fictitious and any similarity to the name, character, or history of any person is entirely accidental and unintentional

RCA Sound System
Made at the Elstree Studios of Associated British Productions Ltd, Boreham Wood, Herts, England and on location
Technicolor 101 mins
Storyline
Summoned by mysterious, telepathic forces, the beautiful Carol, who seems to have no memory as to her true identity, is determined that she must get to the lost city of Kuma and death is the reward for anyone who tries to stop her. In the city, she is awaited by Killikrates, now immortal thanks to the effects of bathing in the sacred flame. He has been persuaded that Carol is the reincarnation of his lost love Ayesha, but is she really 'She' or just a normal young woman chosen at random by someone who wishes to exploit Killikrates' obsession?

Watch the trailer on YouTube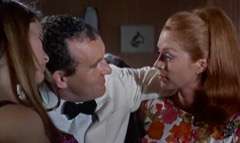 Crew
Cast
Production
Footnotes
Despite the predictions of producer Aida Young that Olinka Berova had a great future ahead of her, she seems never to have been heard of again!

The films marks the last appearances for Hammer of Noel Willman, Andre Morell and John Richardson.

The director Cliff Owen was more established in the field of comedy. His films include "The Wrong Arm of the Law" (1962) and the Morecambe and Wise vehicles "That Riviera Touch" (1966) and "The Magnificent Two" (1967).
Details were complied viewing the actual film.
Source of viewing copy – The Hammer Graveyard Collection