The Devil Rides Out – 1968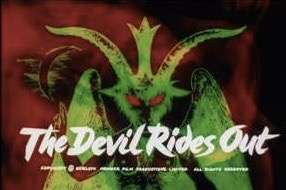 A Hammer film production presented by Associated British Pathe Limited and released through Warner-Pathe Distributors Limited (UK) and Twentieth Century-Fox (USA)
Copyright MCMLXVII Hammer films Productions Limited – All rights reserved
MPAA Approved Certificate No. 21721

The characters and incidents portrayed and the names used herein are fictitious and any similarity to the name, character, or history of any person is entirely accidental and unintentional

RCA Sound System
Made at the Elstree Studios of Associated British Productions Limited, Boreham Wood, Herts, England
Technicolor 95 mins
Storyline
When his ward, Simon Aron, fails to turn up at a reunion, the Duc de Richleau drives down to his house with his friend Rex. When they get there, Simon is somewhat disturbed by their arrival, as he has a house full of guests, a meeting of what he describes as an 'astronomical society' led by the sinister Mocata. However, the Duc, who has made a study of esoteric doctrines, soon realises that he and Rex have in fact stumbled in on a black magic circle and that Simon is shortly to undergo his final initiation into the devil-worshipping cult. A terrifying battle of the forces of good and evil ensues, as de Richleau and Mocata vie for control of Simon's very soul!

Watch the trailer on YouTube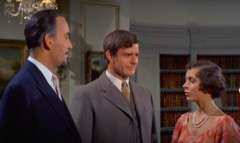 Crew
Cast
Production
Footnotes
This was the first of three adaptations of novels by prolific author Dennis Wheatley which Hammer brought to the screen, the other two being "The Lost Continent" (the book was called "Uncharted Seas") (1968) and "To the Devil a Daughter" (1976).

The voice of Leon Greene was dubbed by actor Patrick Allen, who can be seen in Hammer's "When Dinosaurs Ruled the Earth" (1969).

Paul Eddington became a firm favourite with television audiences with his roles in BBC TV's sitcoms "The Good Life", "Yes, Minister" and "Yes, Prime Minister".
Details were complied viewing the actual film.
Source of viewing copy – The Hammer Graveyard Collection