The Anniversary – 1968
A Hammer Film production presented by Associated British Pathe Limited and released through Warner-Pathe Distributors Limited (UK) and Twentieth Century-Fox (USA)
MPAA Approved Certificate

The characters and incidents portrayed and the names used herein are fictitious and any similarity to the name, character, or history of any person is entirely accidental and unintentional

RCA Sound Recording
Made at the Elstree Studios of Associated British Productions Limited, Herts, England
Technicoior 95 mins
Storyline
Every year, obsessively domineering matriarch Mrs Taggart gathers round her the members of her family to celebrate her anniversary. But, it is not a time for celebration, more an occasion for all the bottled-up frustrations and hatred to bubble to the surface – and heaven help any one of them who has ideas for the future which do not fit in with Mother's plans!

Watch the trailer on YouTube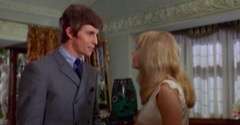 Crew
Cast
Production
Footnotes
Roy Ward Baker was brought in to replace the original director Alvin Rakoff, with whom Bette Davis apparently found it impossible to work.

Character actor James Cossins also appeared for Hammer in "The Lost Continent" (1968), "The Horror of Frankenstein" (1970), "Blood from the Mummy's Tomb" (1971) and "Fear in the Night" (1972).
Sally-Jane Spencer played Reggie Perrin's daughter, Linda, in the BBC TV series "The Fall and Rise of Reggie Perrin".
Details were complied viewing the actual film.
Source of viewing copy – The Hammer Graveyard Collection