A Challenge for Robin Hood – 1967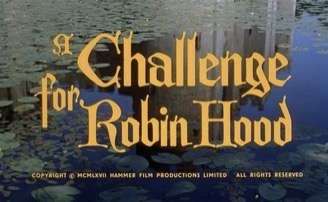 A Hammer Film production presented by Associated British Pathe Limited and released through Warner-Pathe Distributors Limited
Copyright MCMLXVII Hammer Film Productions Ltd, – All rights reserved
MPAA Approved Certificate No. 21562

The characters and incidents portrayed and the names used herein are fictitious and any similarity to the name, character, or history of any person is entirely accidental and unintentional

RCA Sound System
Produced at Pinewood Studios, Buckinghamshire, England
Technicolor 96 mins
Storyline
Deprived of his inheritance by the evil Roger de Courtenay, Robin flees into Sherwood Forest, where he becomes known as Robin Hood by the band of merrie men he forms with fellow outlaws. A life of robbing the rich to give to the poor follows, but Robin still has a score to settle – he is accused of murder by de Courtenay and his friend the Sheriff of Nottingham, and Robin has to fight to clear his good name.

Watch the trailer on YouTube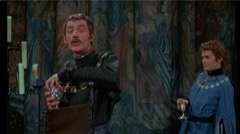 Crew
Cast
Production
Footnotes
The director, who was also known as C.M. Pennington-Richards, had previously made comedies such as "Double Bunk" (1960) and "Ladies Who Do" (1963).

Barrie Ingham faced the constant threat of extermination by murderous pepperpots as a Thal called Alydon in the Aaru (Amicus in all but name) production "Dr Who and the Daleks" (1965, starring Peter Cushing).

Peter Blythe also played a villain, Anton, in Hammer's "Frankenstein Created Woman" (1966).

Leon Greene had a much more substantial role as Christopher Lee's protégé in Hammer's "The Devil Rides Out" (1967).

The voice of actor James Hayter became known countrywide from the TV adverts for the products of a certain company which "makes exceedingly good cakes"!
Details were complied viewing the actual film.
Source of viewing copy – The Hammer Graveyard Collection