The Witches – 1966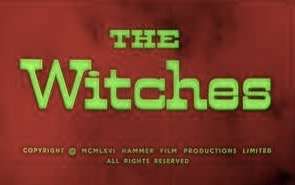 A Seven Arts-Hammer film production presented by Associated British Pathe Limited and released through Warner-Pathe Distributors Limited (UK) and Twentieth Century fox (USA)
Copyright MCMlXVl Hammer Film Production, Ltd, – All rights reserved
MPAA Approved Certificate No. 21322

The characters and incidents portrayed and the names used herein are fictitious and any similarity to the name, character, or history of any person is entirely accidental and unintentional

RCA Sound System
Produced at Bray Studios, England
Technicolor 91 mins
Storyline
Schoolmistress Gwen Mayfield secures a job in the sleepy little English village of Heddaby, having recovered from a nervous breakdown caused by a terrifying experience with witchcraft in Africa. She is soon accepted into local life by the friendly, if a little remote, villagers, but as time goes by she becomes progressively more disturbed as she senses that once again she is surrounded by a nest of witches.

Watch the trailer on YouTube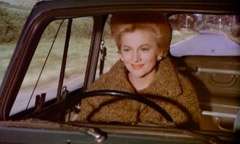 Crew
Cast
Production
Footnotes
Hollywood actress Joan Fontaine owned the rights of the book on which this film is based and seems to have brought the idea to Hammer in the hope of reinvigorating her film career. If so, it did not work and she has only made three TV movies since – "The Users" (1978), "Crossings"' and "Dark Mansions" (both 1986).
She had been in movies since 1935, but made her name as the second Mrs de Wynter in Alfred Hitchcock's "Rebecca" (1940), going on to win a Best Actress Oscar for her second film for him, "Suspicion" (1941). Her many other films include "Jane Eyre" (1944), "Ivanhoe" (1952), "Serenade" (1956) and "Voyage to the Bottom of the Sea" (1961). She is the sister of Olivia de Havilland, although the two actresses fell out and have not spoken to each other for many years.

Cyril Frankel directed one other film for Hammer, the controversial 1960 thriller about a child molester, "Never Take Sweets from a Stranger".

Ingrid Brett is the daughter of film producer/director Roy Boulting. Martin Stephens (17 years old here) had already given impressive performances as a child in "Village of the Damned" (1960) and "The Innocents" (1961).

Michelle Dotrice will always be remembered as Michael Crawford's long-suffering wife Betty in the BBC TV sitcom "Some Mothers Do 'ave 'em".

Leonard Rossiter later appeared in Stanley Kubrick's "2001:A Space Odyssey" (1968) before becoming a household name in BBC TV's "The Fall and Rise of Reginald Perrin" and as miserly landlord Rigsby in Yorkshire TV's sitcom "Rising Damp".

Gwen Ffrangcon-Davies was a grand old lady of the British theatre, who rarely made films. She did however take another role for Hammer in "The Devil Rides Out" (1967). She was over 100 years old when she made her last TV appearance as The Dowager in Granada's adaptation of Sherlock Holmes' "The Master Blackmailer" (1991), starring Jeremy Brett.

Novelist Peter Curtis was in fact a woman, the name being a pseudonym of authoress Norah Lofts.
Rudolph Walker appeared in two of Hammer's TV spin-off comedies in the 1970's – "Love Thy Neighbour" and "Man About the House".
Details were complied viewing the actual film.
Source of viewing copy – The Hammer Graveyard Collection