The Brigand of Kandahar – 1965
A Hammer Film production released by Columbia Pictures
Copyright MCMLXV Hammer Film Productions Ltd. – All rights reserved
MPAA Approved Certificate

The characters and incidents portrayed and the names used herein are fictitious and any similarity to the name, character, or history of any person is entirely accidental and unintentional

RCA Sound System
Made at the Elstree Studios of Associated British Picture Corporation, Herts, England
Hammerscope
Technicolor 81 mins
Storyline
Opening title:- "Fort Kandahar. A British outpost on the North West Frontier of India 1850". Lieutenant Case, hated by his army colleagues for being a half-caste, is convicted on a trumped-up charge of cowardice in the face of the enemy. He is dishonourably discharged and sentenced to ten years imprisonment, but manages to escape and, vowing revenge, he makes for the hills to join the rebel forces of Eli Khan…..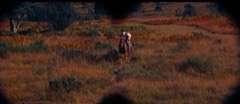 Crew
Cast
Production
Footnotes
John Gilling's directorial work for Hammer is listed in the footnotes for "The Pirates of Blood River". Elsewhere, he directed numerous other films, including "The Gamma People" (1955), "The Flesh and the Fiends" (1959, with Peter Cushing), "Shadow of the Cat" (1961) and "The Night Caller" (1965).

Character actor Duncan Lamont made several appearances for Hammer in the 1960s, also turning up in "The Scarlet Blade" (1963), "The Devil-Ship Pirates" (1963), "The Evil of Frankenstein" (1964), "The Witches" (1966), "Frankenstein Created Woman" (1966) and "Quatermass and the Pit" (1967).
Details were complied viewing the actual film.
Source of viewing copy – The Hammer Graveyard Collection