The Curse of the Mummy's Tomb – 1964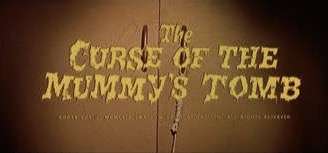 A Hammer film production released by Columbia Pictures Copyright MCMLXIV
Swallow Productions Ltd. – All rights reserved MPAA Approved Certificate No.20454

The characters and incidents portrayed and the names used herein are fictitious and any similarity to the name, character, or history of any person is entirely accidental and unintentional

RCA Sound Recording
Produced at Associated British Studios, Elstree, England
Technicolor 80mins Techniscope
Storyline
"Egypt in the year 1900": A team of archaeologists unearths an ancient mummy, despite dire warnings that there is a curse of death awaiting all who enter the tomb. As the expedition moves to London, where showman financier Alexander King plans to make a fortune by putting the mummy on show, it is not long before the curse begins to take its horrific toll….

Watch the trailer on YouTube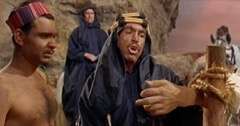 Crew
Cast
Production
Footnotes
Presumably taking a lead from Anthony Hinds' nom-de-plume John Elder, this film was written by Michael Carreras under the name Henry Younger.

Terence Morgan was well-known to British TV audiences in the early sixties as Sir Francis Drake in the swashbuckling ITC series of the same name.

Fred Clark was a distinguished Hollywood supporting actor. His films include the classic "White Heat" (1949, starring James Cagney).
Details were complied viewing the actual film.
Source of viewing copy – The Hammer Graveyard Collection