The Scarlet Blade – 1963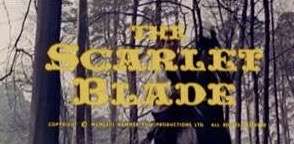 A Hammer Film production presented by Associated British Picture Corporation Limited and released through Warner – Pathe Distributors Ltd (UK) and Columbia Pictures (USA)
Copyright MCMLXIII Hammer Film Productions Ltd. – All rights reserved
MPAA Approved Certificate

The characters and incidents portrayed and the names used herein, with ttle exception of King Charles I, are fictitious and any similarity to the name, character, or history of any person is entirely accidental and unintentional

RCA Sound Recording
Produced at Bray Studios, England
Technicolor 82 mins Hammerscope
Storyline
Opening title:- "1648: This is the story of a band of freemen who defied a tyrant." During the English Civil War, the villainous Colonel Judd, once a Royalist, has changed sides and now vehemently supports Cromwell and his Ironsides. But his daughter, Clare, is still a staunch believer in the King and conspires against her father with the dashing, heroic figure known as The Scarlet Blade.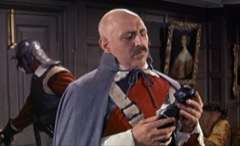 Crew
Cast
Production
Footnotes
This was actor Lionel Jeffries' last film for Hammer, having already appeared in "The Quatermass Xperiment" (1955), "Further up the Creek" and "The Revenge of Frankenstein" (both 1958).

Suzan Farmer also turns up in Hammer's "The Devil-Ship Pirates" (1963) Dracula – Prince of Darkness" and "Rasputin – the Mad Monk" (both 1966). She also played Boris Karloff's daughter in "Monster of Terror" (1965).

Jack Hedley worked for Hammer again in "The Secret of Blood Island" (1965) and as one of Bette Davis's sons in "The Anniversary" (1968).
Details were complied viewing the actual film.
Source of viewing copy – The Hammer Graveyard Collection