The Damned – 1963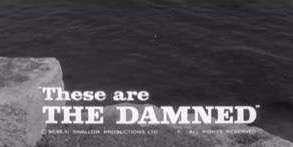 A Hammer production released by Columbia Pictures
Copyright MCMLXI Swallow Productions Ltd. – All right, reserved
MPAA Approved Certificate

The characters and incidents portrayed and the names used herein are fictitious and any similarity to the names characters or history of any person is entirely accidental and unintentional

RCA Sound Recording
Produced at Bray Studios, England
Black & White 86 mins Hammerscope
Storyline
American Simon Wells, on holiday in Weymouth, is set upon and beaten up by a motorbike gang led by the psychotic King. Later, Wells puts out to sea, taking with him King's sister, Joan. Pursued by King and the gang, they take refuge in an isolated cove, where they stumble upon a top secret establishment in which radioactive children are being raised to safeguard the future of the human race after a nuclear holocaust.

Watch the trailer on YouTube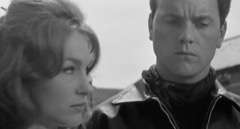 Crew
Cast
Production
Footnotes
From the novel "The Children of the Light" by H.L.Lawrence.
This highly off-beat production proved something of a headache and it was two years before it came down off the shelf and was released in an unsuccessful double bill with Hammer's "Maniac" (1963).

There is no credit for Production Designer on the film, but sources name Bernard Robinson as the most likely candidate for the job.
English comedian, Tommy Trinder, has an uncredited appearance here.
Also uncredited as a Teddy Boy is actor Anthony Valentine in an early appearance.
Details were complied viewing the actual film.
Source of viewing copy – The Hammer Graveyard Collection