Maniac – 1963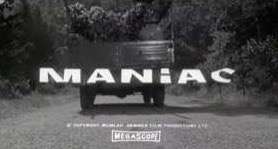 Columbia Pictures Corporation presents A Hammer Film Production
Copyright MCMLXII Hammer Film Productions Ltd.
MPAA Approved Certificate

The characters and incidents portrayed and the names used herein are fictitious and any similarity to the names characters or history of any person is entirely accidental and unintentional

A Hammer Film Production made at Metro, Goldwyn Mayer Studios, Borehamwood, England
RCA Sound Recording
Black & White 86 mins Hammerscope
Storyline
A dissolute drifter down on his luck, Jeff Farrell, is stranded in a cheap bar in France where he falls for Annette, the proprietor's pretty stepdaughter. Annette's stepmother Eve, gradually shifts the young man's attentions to herself, rather than her stepdaughter, and together Eve and Jeff concoct a plot to help free Eve's estranged husband from the institution in which he's been confined as a homicidal maniac these past four years after committing the so-called "Acetylene Murder", when used a blowtorch to kill the man who raped Annette. The idea is that Georges, the husband, will leave the country, but, unknown to Jeff, it's not Georges who escapes but Henri, the guard who has become Eve's lover . . .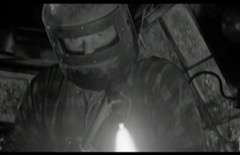 Crew
Cast
Production
Footnotes
The film was on Hammer's 1960 schedule but for unclear reasons it was shelved. It would have starred Peter Cushing and George Sanders.
Norman Bird is dubbed by André Maranne.
Details were complied viewing the actual film.
Source of viewing copy – The Hammer Graveyard Collection