Taste of Fear – 1961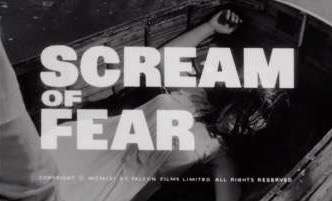 A Hammer Film production released by Columbia Pictures
Copyright MCMLXI by Falcon Film, Limited – All rights reserved MPAA Approved Certificate No. 19519
The characters and incidents portfayed and the name, used herein are fictitious, and any similarity to the name, character, or history of any person is entirely accidental and unintentional

RCA Sound Recording
Produced at Associated British Elstree Studios, England
Black and White 77 mins
Storyline
Confined to a wheelchair following a childhood riding accident, Penny Appleby returns home to the South of France to visit her father, only to be told by her stepmother, Jane, that he has gone away for a few days. That night, she sees a light in the summer house and goes to investigate. To her horror, she is confronted by the corpse of her father, sitting in a chair, his dead eyes staring straight at her!

Watch the trailer on YouTube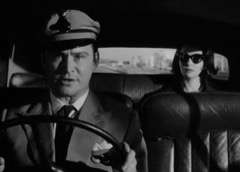 Crew
Cast
Production
Footnotes
This was the first of Hammer's "just who is who and what on earth is really going on?" psychological thrillers, which they made as an alternative to their more visceral horror output.

Christopher Lee, as in "The Man Who Could Cheat Death" (1959), plays a character called Doctor Gerard. The main difference is that in this film he has developed an outrageous French accent!

Actor Ronald Lewis appeared for Hammer again as the eponymous "Brigand of Kandahar" (1965).
Underwater Cameraman, John Jordan, while filming You Only Live Twice (1967), was leaning out of a helicopter to get a better shot. Another helicopter was caught in a gust of wind and was blown closer. The rotor blade cut Johnny's leg which had to be amputated. Three years later, he was filming Catch-22 (1970) over the Gulf of Mexico when another plane passed close by. He was sucked out of the open doorway and fell 2,000 feet to his death. He had always refused to wear a safety harness and with his artificial leg wasn't as agile as he used to be.
Details were complied viewing the actual film.
Source of viewing copy – The Hammer Graveyard Collection