A Weekend with Lulu – 1961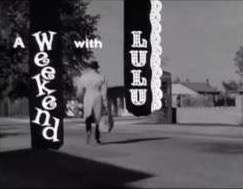 A Hammer Film Production presented by Columbia Pictures Corporation
Copyright MCMLIV by Exclusive Films Ltd.
MPAA Approved

All characters and incidents portrayed, and the names used herewith are ficticious and the similarity to any names, characters or history of any person is entirely accidental and unintentional

Westrex Sound System
Made at Shepperton Studios, England
Black & White 86 mins
Storyline
Fred, Tim and Deirdre plan a fun weekend break on the coast. What they didn't make allowances for was the company of Deirdre's mother who insists on coming along as her daughter's chaperone.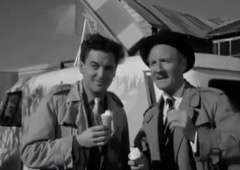 Crew
Cast
Production
Footnotes
This was Bob Monkhouse's only film for Hammer. He bacame a household name as host of London Weekend TV's "Golden Shot" in 1967, followed by shows such as "Celebrity Squares" & "Family Fortunes".

Leslie Phillips, a much-loved comic actor who has specialized in playing plummy, quintessentially English stereotypes. A star of many films, he also provided the voice for The Sorting Hat in the "Harry Potter" films.
Shirley Eaton famously played the girl painted gold in the James Bond film "Goldfinger" (1964).

This was Sid James' last film for Hammer, he starred in "Quatermass 2" (1957), "The Glass Cage" (1955), "The House Across the Lake" (1954), "The Flanagan Boy" (1953) and "The Lady Craved Excitement" (1950).
Details were complied viewing the actual film.
Source of viewing copy – The Hammer Graveyard Collection