The Two Faces of Dr Jekyll – 1960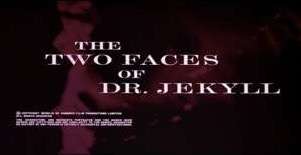 A Hammer film production released by Columbia Pictures
Copyright MCMLX by Hammer film Productions Limited – All rights reserved

The characters and incidents portrayed and the names used herein are fictitious and any similarity to the name, character, of history of any person is entirely accidental and unintentional

RCA Sound Recording
Produced at Bray Studios, England
Print by Technicolor 88 mins Megascope
Storyline
London, 1874: Dr Henry Jekyll is carrying out controversial experiments, experiments which lead to the emergence of his debauched and amoral alter ego, Edward Hyde. Jekyll becomes progressively less able to control his other self, which eventually takes murderous revenge of his faithless wife and her lover.

Watch the trailer on YouTube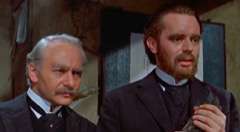 Crew
Cast
Production
Footnotes
Reviews for this film were mixed to negative.

The Monthly Film Bulletin of the U.K. wrote that the film "may be forgiven for tampering with a classic, but not for doing so with such a depressing lack of either wit or competence … Silliness, in fact, has got the better of the film to such an extent that even its most calculatedly vicious episodes appear only mildly grotesque".

Variety gave the film a good review, praising Paul Massie for an "interesting performance" and Jack Asher for "colorful and sure" camerawork.
Hammer child actress Janina Faye (Never Take Sweets from a Stranger and Dracula) has an uncredited part here as the deaf-mute child, Jane.

The film lost Hammer an estimated £30,000.
Details were complied viewing the actual film.
Source of viewing copy – The Hammer Graveyard Collection