The Full Treatment – 1960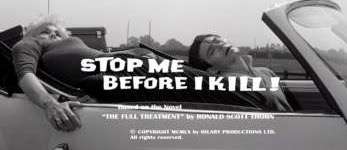 A Val Guest production in association with Falcon Films Limited released by Columbia Pictures
Copyright MCMLX by Hilary Productions Ltd. – All rights reserved
MPAA Approved Certificate No. 19650

The characters and incidents portrayed and the names used herein are fictitious and any similarity to the names, character, or history of any person is entirely accidental and unintentional

RCA Sound Recording
Made at Associated British Studios, Elstree, England
Black & White 109 mins
Megascope
Storyline
Still recovering from serious head injuries sustained in a car crash, motor racing driver Alan Colby and his wife Denise go on holiday to the South of France. There, Alan is suddenly and unexpectedly struck with a compulsion to strangle his wife. Hearing about this, Dr. David Prade, a local psychiatrist, offers to help, but his offer is rejected by Alan and he and Denise return to London.
The psychiatrist follows them there, convinced that sooner or later his services will be needed and that he should be close at hand. At first, all seems well with Alan, but then one morning he wakes from a long sleep to find that Denise has disappeared. Worse, all the evidence points to his having murdered her…..

Watch the trailer on YouTube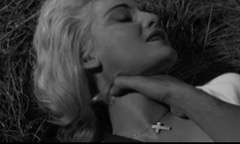 Crew
Cast
Production
Footnotes
In the introduction to the main filmography, we stated that only films described in their credits as Hammer productions would be eligible for inclusion. Well, this film is the one exception we shall be making to that rule. The reasons for doing so are two-fold:- (a) it is included in all lists of Hammer Films, and (b) Falcon was a subsidiary of Hammer.

Actor Ronald Lewis also starred in Hammer's "Taste of Fear" (1961) and "The Brigand of Kandahar" (1965).

Bernard Braden was, like his wife Barbara Kelly, more well known as a TV personality than an actor and was host of programmes such as "Criss Cross Quiz" and "On the Braden Beat" in the 1960s. Another of his acting roles was also for director Val Guest in the documentary-style sci-fi thriller "The Day the Earth Caught Fire" (1961).
Details were complied viewing the actual film.
Source of viewing copy – The Hammer Graveyard Collection