Sword of Sherwood Forest – 1960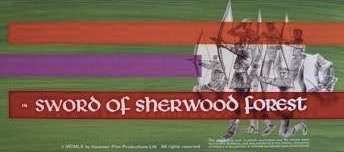 A Hammer film production in association with Yeoman Films Ltd. released by Columbia Pictures
Copyright MCMLX by Hammer Film Productions Ltd, – All rights reserved
MPAA Approved Certificate

The characters and incidents portrayed and the names used herein are fictitious and any similarity to the name, character, or history of any person is entirely accidental and unintentional

RCA Sound Recording
Print by Technicolor, TItles by Chambers & Partners Megascope
Produced at Ardmore Studios, Ireland
Eastmancolour processed at Humphries Laboratories 80mins
Storyline
An injured traveller, shot by the Sheriff of Nottingham's men, is taken care of by Robin Hood and his outlaw band in Sherwood Forest, but despite their help he dies, the words "danger at Bawtry" on his lips. It is the prelude to another exciting adventure for Robin and his Merrie Men, as they uncover a plot by the scheming Sheriff and the traitorous Earl of Newark to seize Bawtry Castle from King Richard's Chancellor, who is also the Archbishop of Canterbury.

Watch the trailer on YouTube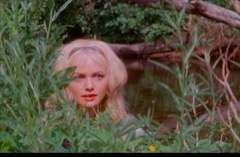 Crew
Cast
Production
Footnotes
Hammer played an important part in the early career of Oliver Reed. His other appearances for them were in "The Two Faces of Dr Jekyll" (1960), "The Curse of the Werewolf" (1961), "The Damned" (1961), "The Pirates of Blood River" (1962), "Captain Clegg" (1962), "The Scarlet Blade" (1962), "Paranoiac" (1963) and "The Brigand of Kandahar" (1965).

Nigel Green played Christopher Lee's arch-enemy Nayland Smith in the first of his five yellow peril films, "The Face of Fu Manchu" (1965), whereas Richard Greene played the same part in the last two, "The Blood of Fu Manchu" and "The Castle of Fu Manchu" (both 1968).

Irish actor Niall MacGinnis was acclaimed for his performance as the sinister Dr Karswell in Jacques Tourneur's terrifying "Night of the Demon" (1957). For Hammer, he also appeared in "Never Take Sweets from a Stranger" (1960) and "The Viking Queen" (1967).

Richard Pasco later returned to Hammer in 1964 for "The Gorgon" and in 1966 for "Rasputin – the Mad Monk".

Desmond Llewelyn, who became world famous as "Q" in the James Bond films, has a smart part here as the traveller who starts all the trouble. He can also be seen playing a footman in Hammer's "The Curse of the Werewolf" (1961).
Details were complied viewing the actual film.
Source of viewing copy – The Hammer Graveyard Collection