Never Take Sweets from a Stranger – 1960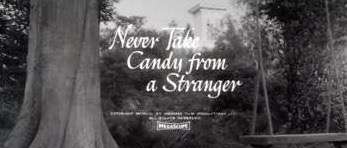 A Columbia Pictures Corporation presentation of a Hammer Film
Production.
Copyright MCMLIV by Hammer Film Productions Ltd. Ltd. All rights reserved

Megascope
MPAA Approved
RCA Sound System
Produced at Bray Studios
All characters and incidents portrayed, and the names used herewith are ficticious and the similarity to any names, characters or history of any person is entirely accidental and unintentional
Black & White 81 mins
Storyline
Opening title: This story – like its characters – is fictitious. It is set in Canada. But it could happen anywhere – And it could be true.
Peter Carter meets official resistance when he finds his 9 year old daughter has been the victim of the pedophile patriarch of the town's most powerful family.

Watch the trailer on YouTube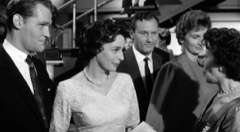 Crew
Cast
Production
Footnotes
The twin themes are paedophilia and the sexual abuse of children, and the way in which those with sufficient pull can corrupt and manipulate the legal system to evade responsibility for their actions. The film is regarded as bold and uncompromising for its time in the way in which it handles its subject matter.

There is some mild swearing in the original British 'Sweets' prints. It features a line from Patrick Allen's character around the ten minute mark: "If he touched her, I swear I'll kill the bastard." In the US 'Candy' prints, the word 'swine' is used on the audio instead, also recorded by Allen, although the picture remains the same and he can clearly still be seen to say 'bastard'.

On its original release, the film made little impact at the box-office and its press was mainly negative. It's reception prompted Hammer Studios boss James Carreras to later comment: "Message pictures? I tried one – Never Take Sweets from a Stranger. Nobody bought it. I'm not an artist, I'm a businessman."

Gwen Watford was a popular English TV actress, this was her only performance for Hammer.

Patrick Allen also appeared for Hammer in "Captain Clegg" 1962. He had a distinctive, authoritative voice which was familiar across the UK, and was often employed as a narrator. He dubbed Leon Green in Hammer's "The Devir Rides Out" and was narrator for "The Viking Queen" 1967. His voice was used in many other films and television shows and this led to him starting up his own business, running a very successful recording studio for voice-over work.


Details were complied viewing the actual film.
Source of viewing copy – The Hammer Graveyard Collection