Hell is a City – 1960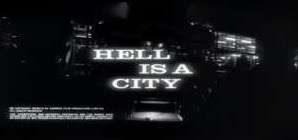 An Associated British-Hammer production released through Warner-Pathe Distributors Limited
Copyright MCMLIX by Hammer Film Productions Ltd – All rights reserved

The characters and incidents portrayed and the names used herein are fictitious and any similarity to the name, character, or history of any person is entirely accidental and unintentional

RCA Sound Recording
Produced at Associated British Elstree Studios, England
Black & White 85 mins Hammerscope
Storyline
Don Starling, a vicious criminal who has escaped from jail, organises a robbery on a wealthy local Manchester bookmaker, forcing the girl carrying the cash into his getaway car. But things go horribly wrong when the girl is killed and Inspector Martineau sets out to track down his old enemy, who is now wanted for murder.

Watch the trailer on YouTube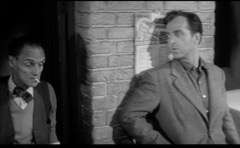 Crew
Cast
Production
Footnotes
This gritty police drama caused a bit of a stir back in 1959, thanks to a very brief nude scene featuring Billie Whitelaw.

The film enjoys a sufficiently high reputation to have merited a re-release in the cinema in 1998.

Welshman Sir Stanley Baker was a much respected actor, whose films include Olivier's "Richard III" (1955), "Hell Drivers" (1957) and "The Guns of Navarone" (1961); he also appeared in two other Hammer productions – "Whispering Smith Hits London" (1952) and "Yesterday's Enemy" (1959).
However, his greatest moment in the cinema probably came in 1963, when he starred in and co-produced the epic film "Zulu". He died in 1976.
ITV's Coronation Street's Annie Walker (Doris Speed) makes an uncredited appearance here.
Details were complied viewing the actual film.
Source of viewing copy – The Hammer Graveyard Collection