To the Devil a Daughter – 1976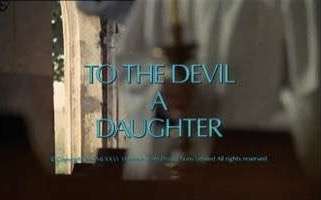 A co-production by Hammer film Productions Ltd., London and Terra Filmkunst GmbH, Berlin, released through Anglo-EMI Film Distributors Limited Copyright MCMLXXVI Hammer film Productions Limited – All rights reserved
MPAA Approved Certificate No. 24371

The characters and incidents portrayed and the names used herein are fictitious and any similarity to the name, character, or history of any person is entirely accidental and unintentional

RCA Sound System
Made at EMI Elstree Studios Hertfordshire, England and on location in the Federal Republic of Germany
Technicolor 93 mins
Storyline
Occult writer John Verney is asked by Henry Beddows to look after his daughter Catherine when she arrives in London. Catherine has been brought up in Germany as a member of a 'church' headed by the self-styled 'Father' Michael Rainer, but, as Verney soon discovers, Rainer is in reality a devil-worshipper with a sinister and dangerous purpose. He plans to sacrifice Catherine so that she will be reborn as a child of Satan and Verney will need all his strength and faith if he is to stop him…..

Watch the trailer on YouTube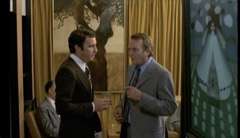 Crew
Cast
Production
Footnotes
So we come to the last of the Hammer Horrors, a production beset with budget and script problems, so much so that Dennis Wheatley made it plain that he would never again allow Hammer to film any of his novels and Richard Widmark kept threatening during filming to board the next plane home to Los Angeles!

Widmark was, of course, a major Hollywood star. His first film was "Kiss of Death" in 1947 and since then his films have included "Pickup on South Street" (1953), "The Alamo" (1960), "Two Rode Together" (1961), "Judgement at Nuremburg" (1961), "How the West was Won" (1962), "Madigan" (1968), "Murder on the Orient Express" (1974), "Coma" (1978) and "Who Dares Wins" (1982).

Denholm Elliott was a marvellous character actor. His many films include "The Cruel Sea'" (1953), "King Rat" (1965), "Alfie" (1966), "The House that Dripped Blood" (1970), "Vault of Horror" (1973) (these last two both for Amicus), "A Bridge Too Far" (1977), "Raiders of the Lost Ark" (1981), "Trading Places" (1983) and "Indiana Jones and the Last Crusade" (1989).
His television appearances include the title role in the BBC's chilling adaptation of Charles Dickens' classic ghost story "The Signalman" (1976). He died in 1992.

Anthony Valentine became a familiar face to TV viewers as upper-class thief "Raffles" in the Granada TV series.

Frances de la Tour's most famous part to date is probably that of the frustrated Miss Jones in Yorkshire TV's seventies sitcom "Rising Damp".

Brian Wilde is best known as Foggy in the record-breaking BBC TV sitcom "Last of the Summer Wine".

After "To the Devil a Daughter" Roy Skeggs left Hammer to form his own production company, Cinema Arts.
Details were complied viewing the actual film.
Source of viewing copy – The Hammer Graveyard Collection