Frankenstein and the Monster from Hell – 1974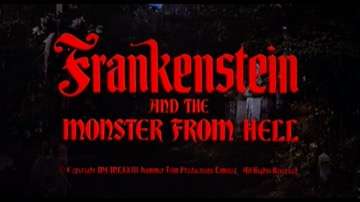 A Hammer production presented by Joseph E. Levine for Avco Embassy
Copyright MCMLXXIII Hammer Film Productions Limited – All rights reserved
MPAA Approved Certificate No. 23441

The characters and incidents portrayed and the names used herein are fictitious and any similarity to the name, character, or history of any person is entirely accidental and unintentional

RCA Sound Recording
Made at EMI/MGM EIstree Studios, Boreham Wood, Hertfordshire, England
Processed at Studio Film Laboratories 99 mins
Storyline
Young Simon Helder is a student of the works of Frankenstein. His experiments in the creation of life are discovered by the police and he is arrested, charged with witchcraft, found guilty but insane and committed to a lunatic asylum. There, he immediately recognises the medical director as Frankenstein, who is working there under an assumed name. At first, Frankenstein takes Simon on to help tend the other inmates, but it is not long before the two men are working together to create another human being…..

Watch the trailer on YouTube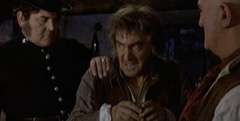 Crew
Cast
Production
Footnotes
Terence Fisher had be coaxed out of retirement to direct this, Hammer's last Frankenstein opus and his own last stint as director. Afterwards, he retired for good and died in 1980.

The screenplay for this film was the last contribution made to Hammer by Anthony Hinds, under his pen-name John Elder.

Actor Bernard Lee played 007's boss 'M' in all of the James Bond films up to and including "Moonraker" (1979).
Nicholas Smith, uncredited here, played Mr Rumbold in the BBC TV sitcom "Are You Being Served".
Details were complied viewing the actual film.
Source of viewing copy – The Hammer Graveyard Collection