Holiday on the Buses – 1973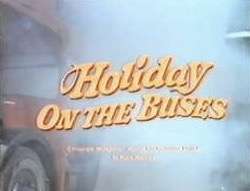 A Hammer production presented by Nat Cohen for Anglo-EMI Film Distributors Limited Copyright MCMLXXIII Hammer Film Productions Limited – All rights reserved
MPAA Approved Certificate

The characters and incidents portrayed and the names used herein are fictitious and any similarity to the name, character, or history of any person is entirely accidental and unintentional

RCA Sound Recording
Made on location in Wales and at EMI-MGM EIstree Studios, Hertfordshire, England
Technicolor 85 mins
Storyline
When Stan, Jack and Blakey all get the sack from the bus company, Blakey could not be more pleased; after all, now at least he will not have to work with the two layabouts who have been a pain in his neck for so long. He gets a job as a security man at a Welsh holiday camp, then, to his horror, discovers that Stan and Jack have found work there as well on the leisure buses. Add in Stan's family, who descend on the place on holiday, and you have a sure recipe for more comic chaos!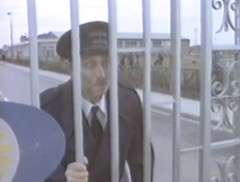 Crew
Cast
Production
Footnotes
By this time, even Hammer's buses were running unreliably and a fourth film was cancelled.

Another milestone in Hammer's history was reached about this time and it was one which did not bode well for the future – James Carreras, whose showmanship had carried the Company for so long, finally retired in 1973, leaving his son Michael in sole charge.

The guest stars are all from television comedies of the time – Wilfrid Brambell from "Steptoe and Son", Kate Williams from Love thy Neighbour, Arthur Mullard and Queenie Watts from "Queenie's Castle" and Henry McGee was the butt of many a joke in "The Benny Hill Show".

This was last Hammer film to be edited by James Needs, who started with them in 1949.
Details were complied viewing the actual film.
Source of viewing copy – The Hammer Graveyard Collection