That's Your Funeral – 1972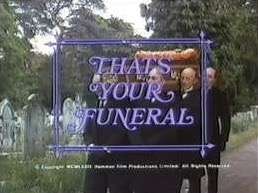 A Hammer Special Comedy Presentation presented by The Rank Orgarlisation and released through Rank Film Distributors Limited
Copyright MCMLXXlI Hammer Film Productions Limited – All rights reserved
MPAA Approved Certificate

The characters and incidents portrayed and the names used herein are fictitious and any similarity to the name, character, or history of any person is entirely accidental and unintentional

Westrex Recording System
Made at Pinewood Studios, London, England
Processed at Rank Film Laboratories 81 mins
Storyline
Intense competition flares when the old established firm of Holroyds finds itself challenged by a rival funeral director who has set up shop almost on their doorstep. As chaos descends over the corpses, coffins and cremations, it transpires that the new business is really a cover for a cannabis smuggling operation. Then, things really start going to pot!!
Crew
Cast
Production
Footnotes
Bearing in mind their history, it was probably the subject matter of this tasteless, would-be comedy which appealed to Hammer. It cannot possibly have been the television series on which it was based, which could hardly be described as popular given that only six episodes (plus a pilot) were ever made by the BBC!
The film's main interest now is that the opening titles include shots of the production crew behind their credits.

This is comedy actor Eric Barker's last film appearance. His awkward gait, by the way, is not put on, but is the legacy of a stroke he had suffered some years before.

This also marks Michael Ripper's last appearance in a Hammer film.
Hammer crew members Michael Carreras, Roy Skeggs, Archi Ludski, Scott McGregor and David Holmes appear as mourners at the first funeral.
Details were complied viewing the actual film.
Source of viewing copy – The Hammer Graveyard Collection