Straight on Till Morning – 1972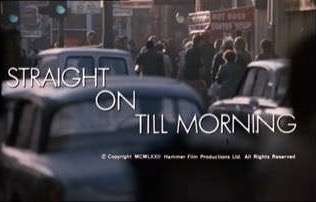 A Hammer production released through MGM-EMI Film Distributors Limited Copyright MCMLXXII Hammer Film Productions Limited – All rights reserved MPAA
Approved Certificate No. 23532

The characters and incidents portrayed and the names used herein are fictitious, and any similarity to the name, character, or history of any person is entirely accidental and unintentional

RCA Sound System
Made at Elstree Studios Hertfordshire, England
Technicolor 96 mins
Storyline
Brenda Thompson is a naive, almost childlike, young Liverpudlian girl, who lives in a dream world in which she is a fantasy princess. Desperate to have a baby, she leaves her home in Liverpool and heads for the bright lights of London in search of a potential father. There, she meets an attractive young man, Peter, who seems to be everything she is hoping for. But all is not as it appears, for he is in reality a dangerous, psychopathic murderer!

Watch the trailer on YouTube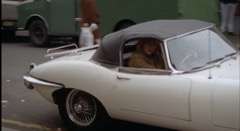 Crew
Cast
Production
Footnotes
Rita Tushingham had made a name for herself in the sixties with films like "A Taste of Honey" (1961), "The Knack…and how to get it" (1965) and "Smashing Time" (1967).

James Bolam was well-known to TV audiences as one of the BBC's "The Likely Lads". His many other appearances include BBC TV's "When the Boat Comes in".

In 1971, Peter Collinson had directed the hysterical psychological thriller "Fright", which was produced by Harry Fine and Michael Style, the men behind Hammer's "Karnstein" vampire trilogy.
Details were complied viewing the actual film.
Source of viewing copy – The Hammer Graveyard Collection