Fear in the Night – 1972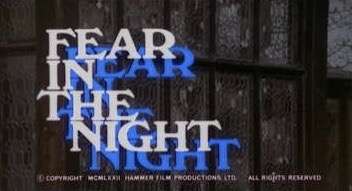 A Hammer production released through MGM-EMI Film Distributors Limited Copyright MCMLXXlI Hammer Film Productions Limited – All rights reserved
MPAA Approved Certificate No.23162

The characters and incident' portrayed and the names, used herein are fictitious, and any similarity to the name, character, or history of any person is entirely accidental and unintentional

RCA Sound System
Made at Elstree Studios Hertfordshire, England
89 mins
Storyline
No one believes pretty young newlywed Peggy Heller when she says she has been attacked in her room by a mysterious assailant, a man with an artificial arm; after all, she has just recovered from a nervous breakdown and is still a bit jittery. Her husband, Robert, takes her to their new home in the grounds of the school where he has taken a new job. There, she meets his boss, the headmaster, and is horrified to see that he has a false arm!

Watch the trailer on YouTube
Crew
Cast
Production
Footnotes
This is the last Hammer film for which Jimmy Sangster receives a credit. He later moved to America to continue his writing career there.

Superstar sex symbol Joan Collins' other stabs at horror include Amicus's "Tales from the Crypt" (1972, with Peter Cushing) and "Tales that Witness Madness" (1973); both films were directed by Freddie Francis.

Judy Geeson had previously been in Herman Cohen's grisly horror film "Berserk!" (1967, starring Joan Crawford).
Details were complied viewing the actual film.
Source of viewing copy – The Hammer Graveyard Collection