Twins of Evil – 1971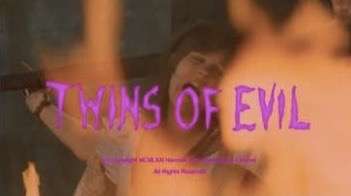 A Hammer production presented by The Rank Organisation alld released through Rank film Distributors limited Copyright MCMLXXI Hammer Film Productions Limited – All rights reserved
MPAA Approved Certificate

The characters and incidents portrayed and the names used herein are fictitious and any similarity to the flame, character, or history of any person is entirely accidental and unintentional

Made at Pinewood Studios, London, England
Colour by Rank Film Processing 87 mins
Storyline
In the area surrounding Karnstein Castle, the forces of good are represented by the grim, puritanical Gustav Weil and his witch-hunting group of religious fanatics called the Brotherhood. On the side of evil is Count Karnstein, an evil, depraved man in league with the Devil. As Weil's twin nieces, Frieda and Maria, come to stay with him after the death of their parents, the Count is staging a Satanic ritual, during which he resurrects the long-dead vampire Mircalla Karnstein. She initiates him into vampirism, setting off a spate of bloody killings. Then, one night, Frieda, the more adventurous of the twins, can no longer resist the temptation to go to the castle to see if all the debauched things she has heard about the place are true…..

Watch the trailer on YouTube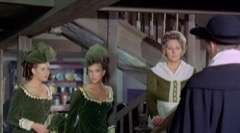 Crew
Cast
Production
Footnotes
Hammer was originally going to make a film called "Vampire Virgins". However producer Harry Fine saw a "Playboy Magazine" spread involving the Collinson twins, Madelaine and Mary, and decided to make a film focusing on them.

This film was made a mere two months after the death of Peter Cushing's beloved wife, Helen, and it is surely no coincidence that he gives probably the grimmest performance of his career as the fanatical, but tortured, witch-hunter Weil.

In the horror genre, John Hough went on to direct "The Legend of Hell House" (1973). He was also the man at the helm of Peter Cushing's last feature film "Biggles" (1986).

Madelaine Collinson died from emphysema in 2014 at the age of 62.
Details were complied viewing the actual film.
Source of viewing copy – The Hammer Graveyard Collection