Dr Jeckyll & Sister Hyde – 1971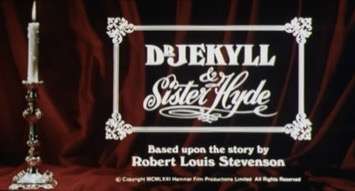 A Hammer production released through MGM-EMI Film Distributors Limited Copyright MCMLXXl Hammer Film Productions Limited – All rights reserved
MPAA Approved Certificate No. 22915

The characters and incidents portrayed and the names used herein are fictitious, and any similarity to the name, character, or history of any person is entirely accidental and unintentional

RCA Sound Recording
Made at EMI-MGM Elstree Studios, Hertfordshire, England
Technicolor 97 mins
Storyline
In the course of his experiments to find an elixir of life, Dr Jekyll stumbles on a formula which, when he tries it on himself, transforms him into a beautiful woman, who calls herself his sister, Mrs Hyde. As his work continues, Jekyll is more and more unable to control his female alter ego, who, unfortunately, is endowed with a particularly vicious and murderous streak, which will eventually bring about his downfall.

Watch the trailer on YouTube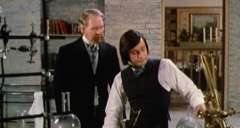 Crew
Cast
Production
Footnotes
Following the cancellation of the long-running ABC TV series "The Avengers", which Albert Fennell and Brian Clemens had been producing for years, they moved to Hammer to produce this film and, in 1972, the equally quirky "Captain Kronos Vampire Hunter".

By the time this film was made, Martine Beswick had married former Hammer leading man John Richardson.
Husband and wife Ralph Bates and Virginia Wetherell first met as they prepared to shoot the scene in which Bates as Dr. Jekyll kills the prostitute played by Wetherell.
Details were complied viewing the actual film.
Source of viewing copy – The Hammer Graveyard Collection