The Vampire Lovers – 1970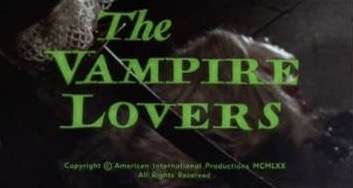 An American International-Hammer Films pmduction released through MGM-EMI Film Distributors Limited (UK) and American International (USA)
Copyright American International Productions MCMLXX – All rights reserved
MPAA Approved Certificate

The characters and incidents portrayed and the names used herein are fictitious and any similarity to the name, character, or history of any person is entirely accidental and unintentional

Technicolor 91 mins
Storyline
The film starts with a prologue in which Baron Hartog seeks to eradicate the undead monsters of the Karnstein family, vampires which hold an Eastern European province in a grip of terror. He manages to destroy all but one – Mircalla Karnstein, whose grave eludes him. Years later, calling herself Marcilla, she reappears and is invited by the unsuspecting General Spielsdorf to stay in his house with his beautiful young daughter, Laura. Soon, though, Laura is having terrible nightmares and showing signs of acute anaemia…..

Watch the trailer on YouTube
Crew
Cast
Production
Footnotes
Broadening their horizons still further in the new, permissive era, Hammer injected this film with ample doses of nudity and lesbianism.

Ingrid Pitt had come to the attention of James Carreras after her roles in "Where Eagles Dare" (1968) and Amicus's "The House that Dripped Blood" (1969). For Hammer, she also starred in "Countess Dracula" (1970). Her other films include "The Wicker Man" (1973, with Christopher Lee) and "Who Dares Wins" (1982).

George Cole had been a regular film actor since his first film, "Cottage to Let", in 1941. His most famous role in the cinema was probably that of Flash Harry in the first four "St. Trinians" films (1954 -1966). His other films include Olivier's "Henry V" (1944), "Scrooge" (1951), "Top Secret" (1952), "The Green Man" (1956), "Too Many Crooks" (1959), "Cleopatra" (1963), and "Fright" (1971). His only other Hammer film was "Don't Panic, Chaps!" (1959). On television, he became know to millions as Arthur Daley in Thames TV's "Minder".

John Forbes-Robertson would later inherit the role of Dracula from Christopher Lee in Hammer's "The Legend of the 7 Golden Vampires" (1974).

Although not mentioned in the credits, "The Vampire Lovers" was made at A.B.P.C. Studios in Elstree.
Details were complied viewing the actual film.
Source of viewing copy – The Hammer Graveyard Collection