The Horror of Frankenstein – 1970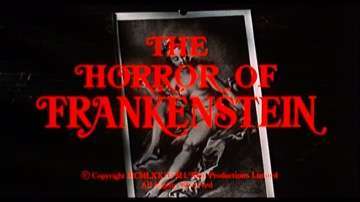 A Hammer Film production presented by EMI Film Productions Limited, distributed by Anglo-EMI Film Distributors Limited and released through MGM-EMI Film Distributors Limited
Copyright MCMlXX EMI Film Productions Limited – All rights reserved
MPAA Approved Certificate No. 22572

The characters and incidents portrayed and the names used herein are fictitious and any similarity to the name, character, or history of any person is entirely accidental and unintentional

RCA Sound Recording
Produced at EMI-MGM Elstree Studios, Hertfordshire, England
Technicolor 91 mins
Storyline
Young Victor Frankenstein possesses scientific knowledge and ambitions far beyond his tender years, but his father refuses to subsidise any more of his unorthodox experiments. The solution is simple – Victor arranges for his father to be killed in a shooting 'accident' and inherits his fortune. Now able to do as he pleases, Frankenstein embarks on his ultimate goal – the creation of a human being. But the creature he builds turns out to be a rampaging, murderous monster!

Watch the trailer on YouTube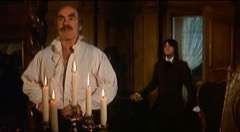 Crew
Cast
Production
Footnotes
Dennis Price appeared in many films, including the ghost story "A Place of One's Own" (1945), "Kind Hearts and Coronets!' (1949), "Private's Progress" (1956), "The Naked Truth" (1957), "I'm All Right, Jack" (1959), "The VIPs" (1963), "Jules Verne's Rocket to the Moon" (1967), "The Haunted House of Horror" (1969) and "Theatre of Blood" (1973, with Vincent Price).
He was also in two of Terence Fisher's films away from Hammer, "The Horror of It All" (1963) and "The Earth Dies Screaming" (1964).
His other Hammer productions were "Don't Panic, Chaps!" (1959), "Watch it, Sailor!" (1961), "Twins of Evil" (1971) and "That's Your Funeral" (1972). He died in 1973.

Kate O'Mara also appears in Hammer's "The Vampire Lovers" (1970).

Jon Finch went on to take starring roles in Roman Polanski's "Macbeth" (1971) and Alfred Hitchcock's "Frenzy" (1972).
For Hammer, he also made "Vampire Lovers" (1970).

David Prowse also played Frankenstein's monstrous creation in Hammer's "Frankenstein and the Monster from Hell" (1973), but his most famous role is probably that of Darth Vader (but not the voice) in the (then) "Star Wars" trilogy. He was also the Green Cross Code Man in the television road safety campaign of the 1970s. His other appearance for Hammer was in "Vampire Circus" (1971).
Details were complied viewing the actual film.
Source of viewing copy – The Hammer Graveyard Collection