Taste the Blood of Dracula – 1970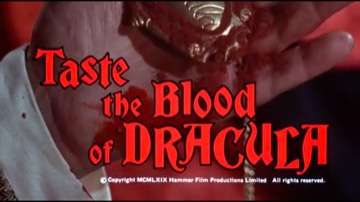 A Hammer Film production released through Warner-Pathe Dimibutors Limited (UK) and Warner-Seven Arts (USA)
Copyright MCMLXIX Hammer Film Productions limited – All rights reserved
MPAA Approved Certificate No. 22364

The characters and incidents portrayed and the names used herein are fictitious and any similarity to the name, character, or history of any person is entirely accidental and unintentional

RCA Sound Recording
Produced at ttle Elstree Studios of Associated British Productions Ltd, Hertfordshire, England
Technicolor 95 mins
Storyline
The film opens with a prologue in which shady salesman Weller witnesses the destruction of Dracula (as shown in "Dracula has Risen from the Grave") and collects the vampire's blood. The action then moves to seemingly respectable Victorian England, where pillars of society William Hargood, Samuel Paxton and Jonathan Secker travel to London, a journey they make every month ostensibly to do charity work with the poor. However, the real reason for the trip is to indulge in sex orgies at a brothel run by the seedy Felix, who introduces them to the debauched Lord Courtley. Challenging them to plumb even lower depths of depravity, Courtley takes them to Weller's shop and persuades them to buy Dracula's blood for use in a sickening Satanic Black Mass ritual…..

Watch the trailer on YouTube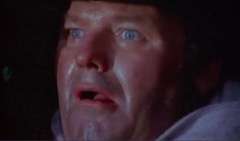 Crew
Cast
Production
Footnotes
The American distributor would not accept Hammer's original idea to have a Dracula film without Dracula and it took quite a lot of persuasion to convince Christopher Lee to resurrect a character with which he was becoming increasingly disenchanted.

This was the first of three films directed for Hammer by Hungarian Peter Sasdy, the others being "Countess Dracula" (1970) and "Hands of the Ripper" (1971). For Christopher Lee's Charlemagne company, he also directed "Nothing but the Night" (1972, starring Lee and Peter Cushing).

This was also the first Hammer film for actor Ralph Bates, who later appeared for them again in "The Horror of Frankenstein" (1970), "Lust for a Vampire" (1970), "Dr Jekyll and Sister Hyde" (1971) and "Fear in the Night" (1972). He later starred in BBC TV's sitcom "Dear John", before his premature death in 1991.

He was married to actress Virginia Wetherell, who appears in Hammer's "Dr Jekyll and Sister Hyde" and "Demons of the Mind" (both 1971).

Linda Hayden enjoyed a short career in horror films and also appeared in Tigon's "Blood on Satan's Claw" (1970) and the American International/Amicus co-production "Madhouse" (1974, starring Peter Cushing and Vincent Price).
Details were complied viewing the actual film.
Source of viewing copy – The Hammer Graveyard Collection