Crescendo – 1970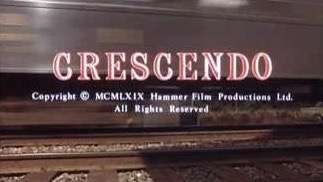 A Hammer Film production released through Warner-Pathe Dimibutors Limited (UK) and Warner-Seven Arts (USA)
Copyright MCMLXIX Hammer Film Productions Limited – All rights reserved 
MPAA Approved Certificate 

The characters and incidents portrayed and the names used herein are fictitious and any similarity to the name, character, or history of any person is entirely accidental and unintentional 

RCA Sound System 
London Symphony Orchestra
Produced at A.B.P. Studios, Boreham Wood, England and on location in France 
Technicolor 95 mins
Storyline
A young music student, Susan Roberts, arrives in the South of France to research a thesis she is writing about a dead composer. She is greeted at his home by his widow, Danielle, and his wheelchair-bound son, Georges, a strange and intense young man. But all is not well in the household and Susan is soon caught up in a nightmare of recurring dreams, insanity, drug addiction and murder!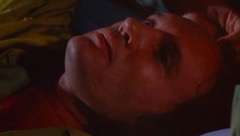 Crew
Cast
Production
Footnotes
American actor James Olson could not have been happy with his experience at Hammer, having made two flops for them in quick succession, this one and the same year's "Moon Zero Two!". His other films include the horror prequel "Amityville II the Possession" (1982).

Stefanie Powers went on to star opposite Robert Wagner in the long-running American thriller series "Hart to Hart".

Canadian director Alan Gibson made two more films for Hammer, "Dracula A.D.1972" (1972) and "The Satanic Rites of Dracula" (1973). He died in 1987.

Saxaphone player, Tubby Hayes, died during heart surgery at the age of 38.
Details were complied viewing the actual film.
Source of viewing copy – The Hammer Graveyard Collection