Amicus Films
The Land that Time Forgot – 1975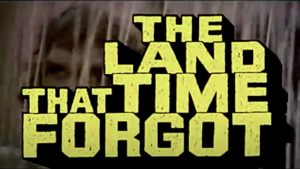 An Amicus Production
Produced at Shepperton Studios
91 Mins
Storyline
During World War I, a German U-boat sinks a British ship and takes the survivors on board. After it takes a wrong turn, the submarine takes them to the unknown land of Caprona, where they find dinosaurs and neanderthals.
Hammer Connections – 13
Footnotes
Hammer actor Anton Diffring dubbed John McEnery's voice as Captain Von Schoenvorts, allegedly because the producers felt McEnery had used a silly voice for the part.
Details were complied viewing the actual film.
Source of viewing copy – The Hammer Graveyard Collection