Amicus Films
Daleks Invasion Earth 2150 A.D. – 1966
An Amicus Production
Produced at Shepperton Studios
84 Mins
Storyline
Dr. Who and his companions arrive on Earth in the year 2150 AD, only to discover that the planet has been invaded and its population enslaved by the dreaded Daleks.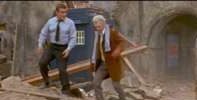 Hammer Connections – 20
Footnotes
Despite bearing the credit "An AARU Production", this film (and its forerunner Dr. Who and the Daleks (1965)) was made entirely by Amicus. AARU received the sole production credit as part of a co-finance deal with Amicus, which felt it couldn't afford to make a movie of this scale by itself.
Details were complied viewing the actual film.
Source of viewing copy – The Hammer Graveyard Collection