The Studio that Dripped Blood – 1987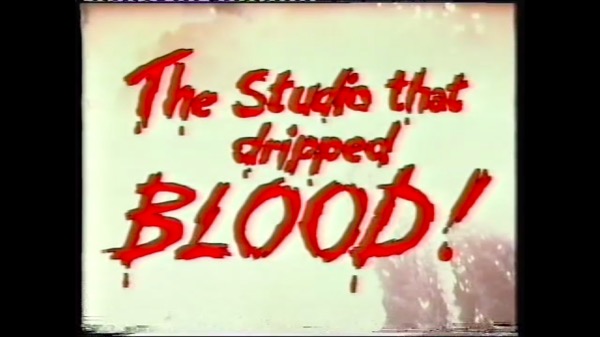 The BBC wishes to thank:
Weintraub Entertainment Ltd.
Columbia Pictures Television
Warner Brothers
Hammer Films Ltd.
Brian Everett
Len Harris
BFI Education
National Film Archive
Fred Humphries
Ricky Daniels
Tony Bagley
Samuelsons
Oakley Court
Kevin and Paul Grindrod of "Te Rivendale"
Phil Nutman
Christopher Wicking
"Little Shoppe of Horrors"
© BBC MCMLXXXVII

Storyline
A retrospective of the films of Hammer Studios, renowned for making stylish horror films in the 1950s, '60s and '70s. Included are clips from Hammer productions and interviews with actors, actresses, directors and producers who worked on these films.

Crew
New York Interview
Film Camermen
Film Sound
Rostrum Camera
Videotape Editor
Dubbing Mixer
Production Secretary
Film Editor
Producers
Debbie Gellar
Brian McCann, John Walker
Martin Clift, John Cooper
Zephyr Films
Collo Caulton
Mike Horwood
Frances Keen
Paul Willley
Nick Jones, David Thompson
Featuring
Images from the 1987 program.
James Bernard
1925 – 2001
Composed the music for 25 Hammer Productions
Sir James Carreras (1970)
1909 – 1990
Hammer Founder
Michael Carreras
1927 – 1994
Son of founder James Carreras.
Production credits in over 60 Hammer Productions,
Peter Cushing
1913 – 1994
Star of 18 Hammer Films
Anthony Hinds
1922 – 2013
Over 70 Hammer Production credits
Christopher Lee
1922 – 2015
Hammer's Dracula and veteran of over 20 Hammer Productions
David Pirie
b. 1953
Writer and Critic
Ingrid Pitt
1937 – 2010
Hammer's Countess Dracula
Jimmy Sangster
1927 – 2011
55 Hammer production credits, including writing 1958's Dracula
Martin Scorsese
b. 1942
Director
Don Sharp
1921 – 2011
Director – "Rasputin – The Mad Monk" (1966)
Aida Young
1920 – 2007
Hammer Producer